Toro eS3000 72V Battery Rider
Brand: TORO
Product Code: 75500
Availability:
Available on Request
There is no doubt that battery technology is the future and Toro is showcasing this with the introduction of the eS3000 Toro battery rider. This unit is due to hit Australian shores this July just in time for Aussie's to tackle their backyards come spring.
This mower is ideal for customers that have a larger domestic property such as a corner block when a traditional walk-behind mower just doesn't cut the mustard. Get up-to 2 hours run time with the Toro eS300 which equates roughly to 8000 square meters in total! The unit is conveniently sized as a 30" cut so you can squeeze through traditional gate openings to ensuring you can use this unit not only in the front yard but also in the back!
The unit allows you to easily mow in forward and reverse with a foot pedal that you activate using your heel and toe operation movements. No gears - its all automatic! The electric PTO gives you the ability to control your blades at your finger tips so you don't have to manually engage any leavers.
Being battery powered the unit is also super quiet allowing you to mow at any time of the day without disturbing anyone. The 72V brushless motor gives you plenty of power to work with and will enable you to easily cut your domestic yard without any hassles that come with a petrol-powered engine.
Also backed by a three-year domestic warranty!
Specifications
Manuals
Videos
Specifications
Single motor with a rating of 800w. Powered by an integrated battery with mains charging cable (in place charging) Lead acid AGM 72V
Right side discharge, two blade mid-mounted rotary. Formed steel housing with welded mounting brackets
Two motors (800kw each) on each spindle, powering the rotation of each blade
2.5 cm to 10.6 cm (1 to 4.2 inches) HOC in 10 increments
Ergonomic standard steering wheel
33.0 x 16.5 – 15.2 cm (13.0 x 6.5 – 6.0 inch), pneumatic tyre with symmetrical tread
Adjustable, hinged mounting, with spring suspension
0 to 5 km/h (0 to 3.1 mph)
0 to 5 km/h (0 to 3.1 mph)
100 cm (39.4 inches) – With the deflector down 82 cm (32.3 inches) – With the deflector up (deck width)
Consumer: Machine 3 years warranty Professional: Machine 30 days warranty Refer to Operator's Manual for further details
No features are currently available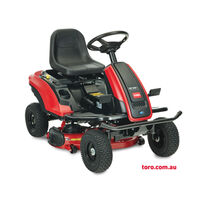 Toro eS3000