Toro Personal-Pace Electric Start Self-Propelled
Brand: TORO
Product Code: 21464
Availability:
Coming Soon
IN STOCK AND CAN BE SHIPPED TO YOUR DOOR
DEPOT DELIVERY ALSO AVAILABLE! GET IN CONTACT WITH US TODAY
The all-new Toro push mower range is finally here and the new Toro electric start model is packed with features.
The self-propelled drive is the best in the business and you won't be disappointed. The variable drive automatically adjusts to your walking speed as the pressure is increased in the handle the faster you walk which in return quickens the mower! This tailors the experience to your walking style!
This machine is both push-button start and self-propelled making the chore of grass cutting so much easier!
The new Vortex air intake system increases the airflow under the mower resulting in better cutting performance, better bagging performance and better mulching ability! Toro is elite when it comes to mulching performance and the specially designed blade will ensure you get the most out of your lawns when the clippings are recycled into your grass giving it a greener look! If you like to collect the grass mainly, then don't worry, you can easily switch from mulching to bagging with the adjustment of a single lever!
For added safety, the unit also features engine brake technology which stops the machine when your hands leave the mower, this stops the unit's engine from running and in return shuts the blades off making the unit much safer to be around when someone is not in control,
Specifications
Features
Videos
Specifications
6.25 ft-lb Gross Torque* Briggs & Stratton® Exi 150cc
1.0" - 4.0" / 2.5 - 10 cm
Personal Pace Auto-Drive Rear-Wheel Drive
8" / 20 cm Front, 10" / 25.4 cm Rear
3-Year Guaranteed to Start / 2-Year Full**
Features
Personal Pace Auto-Drive
What makes Toro arguably no. 1 when it comes to self-propelled drives, no levers, no adjustments. The harder you walk the fast the machine automatically drives!
Vortex Technology
This is a special addition to the new model which increases the airflow under the deck that in return supercharges your grass cutting ability and increases bagging performance!
Super Bagger
Get the job done more easily than ever with our new Super Bagger, shaped for easier lifting, no-shake pouring and zero-hassle cleanup.
Feed Your Lawn
Toro is known for its mulching ability and the ultrafine clippings it produces are recycled into the grass below giving you a green, healthier looking lawn.
Bag on Demand
Easily switch from begging to catching in a few seconds.
Roll With It
Added traction that doesn't tear up your lawn!
Time Saver
Mow more area in less time with the generous 22" blade.
Electric Start
Who hates ripping that pull cord for an endless amount of reasons! This machine starts easily with the added feature of push button start! This battery is easily rechargeable!
No manuals are currently available
Toro Atomic Blade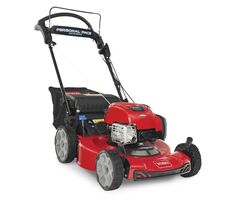 Toro Electric Start