Toro 14" - 36cm Recycler 60V MAX Battery Mower (KIT)
Brand: TORO
Product Code: 21836
Ideal for lawns up to 200 square metres, the Toro 36 cm Recycler 60V MAX* Battery Mower starts with the push of a button and can be set for bagging or recycling.
The 36 cm cutting width covers a lot of ground while maintaining excellent maneuverability. The Flex Force Power System™ includes a 600W brushless 60V motor, free of engine exhaust emissions.
The RunSmart™ Software maximizes run time and performance by automatically adjusting the speed of the motor to match the conditions. The upright SmartStow® feature saves storage space and provides easy access for cleaning under the deck. Best of all, your 60 Volt battery is compatible with all the other products in the Flex-Force battery-powered lineup. L135 battery (2.5 amp-hour, 135 watt-hours) and charger included.
*Battery manufacturer rating = 60V maximum & 54V typical usage. Actual voltage varies with load.
Specifications
Features
Videos
Specifications
L135 (2.5 Ah) 135 Wh 60V - Charger included
21.9 kg with L135 Battery
Features
Easy push-button start gets you mowing fast.
Intelligent RunSmart™ software maximises run time and performance. The mower automatically adjusts the speed of the motor to match the conditions, delivering more power when you need it and longer runtime in light conditions.
Save up to 70%** floor space by storing the mower upright – with easy grass box storage. **Space savings are in relation to the space consumed by a Toro® 36 or 43 cm Walk Power Mower stored with the handle in the standard operating position.
Select the desired height of cut in one easy move with a single-point height of cut adjustment.
Conveniently store the grass box by hooking onto the mower handle in SmartStow® position.
No manuals are currently available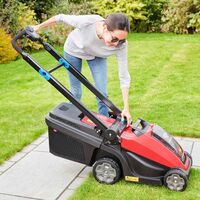 Toro 36cm Battey Mower