Toro Titan HD 2000 Series 48" MyRide
Brand: TORO
Product Code: 74465
Specifications
Features
Manuals
Videos
Specifications
5" decl depth (7/10-gauge high-strength steel)
3.8cm - 12.5cm (in 6mm increments)
3 in total (one at front in the centre and 2 in the rear)
Deluxe seat with padded arm rests
5 point adjustment on rear shocks
8" alum sealed ball bearings 1" shaft
13" x 6.5" - 6" (front) / 23" x 9.5" - 12" (rear)
Features
MyRide Suspension System
This is Toros optimum comfort technology for providing the operator with the smoothest ride on the market. 3 shocks provide a platform that is completely seperate form the machine with 3" of travel so that you don't feel the effects of the rough terrain below you.
Optimum Comfort
A high quality leather seat fitted with suspension and complimented by an isolated floor pan design means that the Toro Titan HD has never been more comfortable. The an improved deck lift system also lifting and lowering the deck can be easily managed by both males and females. Mowing in tough conditions can be hard on your body, and Toro understands this which is why they take comfort seriously
Innovative Tool Carrying
The all new tool attachment assembly allows you to customise your Titan to be able to carry your garden tools such as a blower and bruschutter while you mow. Watch the video for more details and too see how it works!
Turbo Force Cutting Deck
The durable, robust and strong side discharge cutting deck is manufactured to handle the toughest terrain and deliver a clean cutting performance. Made from high strength 10/7 gauge steel with oversized spindle housings and a fully welded bumper bar.
Commercial Grade Hydraulics
The integrated pump and wheel motor is manufactured by Toro using only parts that are proven commercial hydraulic components while eliminating hoses and other potential leak points. This high quality design means that when steering the machine you will receive a faster response all while getting a reliable machine.
Foot Lift For Easy Servicing
The flip up floor panel allows you to get easy access to the routine service points on the deck making life much easier. Especially when it comes to changing a belt!
Cutting Height Adjustment
The all new deck height adjustment design makes lifting and lowering the deck extremely easy meaning all men and women will be able to do it!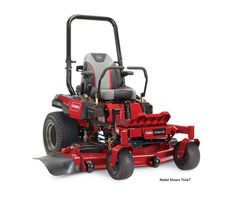 Toro MyRide Titan HD