Toro Titan MR 6000 MyRide Zero Turn 60" Kawasaki
Brand: TORO
Product Code: 75318TA
The all-new Toro Titan range has had a serious revamp giving the end-user HUGE value for money. This deck size in this model is the first time Toro has brought it into Australia and it is about time! The bigger the deck, the bigger the time savings and you cant ask for any more than that. Toro Titan MX6000 saving you time and getting you your weekends back!
Heavy-duty air filter system. Rubber chute. Toro MyRide suspension and a fully fabricated cutting deck thats built to a commercial-grade quality.
Toro is one of the leading manufacturers in the grounds care game and their innovative, cutting edge technology is showcased in their latest products. The MyRide suspended operator platform gives you a huge 3" of travel when driving the unit across rough surfaces. This not only saves your back but makes the experience a much more enjoyable one.
The new Toro Titan MX6000 will now feature the Kawasaki FR730V engine which is a 24HP V-Twin Air Cooled 4-stroke engine that is well known for its reliability and durability.
The deck is part of Toro's well known "ironForged" series which is a fully fabricated unit with 10 gauge construction and a welded front bumper for added protection.
The high-back seat, large wheels, and high-quality steering components really round this product off as a great addition to anyone's home. Backed by a huge 3-year limited warranty on both engine and unit.
Specifications
Features
Videos
Specifications
24HP KAWASAKI V-TWIN OHV FR730V
18" Handcrafted High Back Seat with Arm rests
13" x 6.5" ( 33.3 cm x 16.5 cm) Front, 22" x 11" (55.8 cm x 27.9 cm) Rear
60" IronForged™ Fabricated 10 ga. High Strength with Bull Nose
Features
Toro MyRide Suspension
Extreme comfort through toro innovation. 3" of suspension gives the operator a comfortable ride even through the roughest terrains. Allows you to leave the mower feeling fresh!
Toro Pro DNA
Professionals use Toro for a reason. The number one brand in grounds care gives you the same high quality product and cut in all their machines. Buy like the Pro's and buy a Toro.
Toro IronForged Cutting Deck
10 gauge steel fabricated cutting deck with a welded bumper bar on the front gives you a durable and high quality cutting tool that can handle a load of work. This is then supported by high strength spindle assemblies, large shafts and a high blade tip speed.
Step on the Deck
The deck hanger design and construction holds the unit so stable that the user can actually stand on the deck in order to mount the machine.
Toro Handcrafted Seat with Arm Rests
A deluxe seat to compliment the smoothest of rides with the Toro MyRide Suspension. Arm rests make operating the lap bars an ease!
Engine Fenders
Protecting the engine is a must. The Toro engine is fully protected at the rear and on the sides so it wont get sprayed by debris of if you swing the rear around and collect something the engine is safe and sound.
Cup Holder
The cup holder is convenient enough to carry water! One upgrade a lot of local males have requested is the next cup holder to be built into the myride system to carry their beer "it would greatly reduce the chance of spillage!" said one local.
Foot Assisted Lift
Easily clear unexpected obstacles and save your deck with foot lift assist.
Rubber Discharge Chute
Never worry about breaking or smashing a discharge chute again with the rubber side chute! Also removed the need to worry about damaging an obstacles when trimming near by!
No manuals are currently available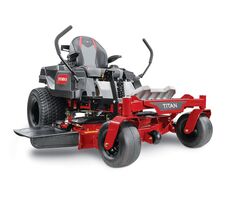 Toro Titan