Toro Z-Master 4000 Series 48" Zero-turn
Brand: TORO
Product Code: 74000TA
No matter what machine Toro releases they continue to set the bar so much higher each time which is why they are no.1 when it comes to grounds care equipment.
The Toro 4000 Series screams durability, strength, quality of cut and most of all it looks bloody mean! Toro understands the market and what we need in a grass cutting machine then they put all that knowledge together to come up with a unit that satisfies those needs in abundance.
The brand new Toro 4000 series features the Toro Turbo Force deck which has a strength that is unmatched by competitors in the same market as it gives you 7 gauge steel with a fully tubular frame allowing you to experience years of performance without any issues at all. This deck is then powered by a reliable 4-Stroke V-Twin 24.5 Kawasaki FX751 Engine that is well known in the industry for its reliability and durability. The canister air filter ensures it breathes clean air and increases service intervals as it can handle dustier conditions when compared to smaller designed air filtration systems.
The on and off step-through makes the unit easier to mount and exit and the deluxe high back seat with armrests increases the operator comfort as we all know how important that is, bigger tyres, rubber side chute, more cup holders and USB ports all add up as sometimes its the little things that can make a big difference. It also features an anti-slip floor mat that gives you grip and also reduces the vibrations of the machine. The ROPS has quick-release nobs so you can easily fold the bar down when needed to get under trees or the clothesline!
The tested and proven heavy-duty cast 9" aluminum spindle assemblies and large driveshaft along with the quick blade tip speed leave you with a durable cutting system that also leaves a great finish. the maintenance-free bearings also remove the hassle of ever having to grease the deck bearings also and are tested and tried in a hard environment.
Get yours today.
Specifications
24.5 hp* Kawasaki® FX751 (852cc) with Heavy-Duty Donaldson® Canister-Style Air Cleaner
.204" (.5 cm) Heat-Treated Steel
13" x 6.5" - 6" (33 x 16.5 – 15.2 cm) Flat-free semi-pneumatic
48" (121.9 cm) 7-Gauge High-Strength Steel TURBO FORCE®
Turf Tires 24" x 9.5" – 12" (61 x 24.1 – 30.5 cm)
Standard, 1.5" - 5.5" (.25" increments) 3.8 – 12.7 cm (.6 cm increments)
Deluxe - suspension seat with arm rests
9" (22.9 cm) Diameter Aluminum
1.4" (3.6 cm) Diameter Grips; Adjustable, Dampened
ZT-4400 Integrated Pumps & Wheel Motors
5-Year 1250-Hour / 2-Year No Hour Limit**
No features are currently available
No manuals are currently available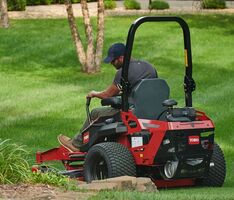 Toro 4000 Series