Wolf Garten EW-M Window Wiper
Brand: WOLF GARTEN
Product Code: 71ANA010650
The WOLF-Garten Window Wiper features a 110° adjustable head which allows you to wash windows of almost any shape.
The scrubbing cloth has a Velcro strip that allows for quick cleaning and attaching and detaching of new washing cloths.
Use in conjuction with a short or long handle, or an extendable pole (up to 400cm), to easily clean external windows on the ground level or 2nd story.
No more ladders required, clean all kinds of windows safely from the ground.
Made in Germany, with a lifetime warranty, the EW-M Window Wiper is an essential clean up tool that is built to last.
See the Window Wiper in action below.
Use in combination with the Window Squeegee and Extendable Vario Handle, to clean 2nd storey windows, safely from the ground.
No specifications are currently available
No features are currently available
No manuals are currently available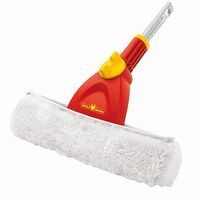 Window Wolf Garten