Toro TimeCutter MX5075 50" MyRide
Brand: TORO
Product Code: 75755TA
ADD TO CART
Few small upgrades on the new Toro MX5075 with bigger front caster wheels and a sleeker-looking design.
Get the comfort of a commercial mower with a domestic price tag! The all-new Toro Timecutter MX5075 zero-turn will provide you with the ultimate comfort experience rounding off a durable and strong machine! Fitted with a powerful 24.5hp Toro engineer with a self-cleaning air filter housing, screw-on oil filter, and easy access fuel filter. Fitted with the Toro MyRide gives you the ultimate comfort experience as the operator is isolated from the machine itself making the Toro the most comfortable Zero-turn on the market.
The 50" fabricated cutting deck is made from 10 gauge steel and has a bull-nose bumper welded to the front for extra protection! This deck is so much stronger than the traditional pressed decks and that's where the difference lies. Buy a machine that is built to last for rougher properties. Come in and see us today for more information and cash deals or apply for finance below.
Zero-turn ability means you buying back your time! Save up to 40% of your time spent mowing by purchasing a zero-turn machine when compared to your traditional tractor ride-on mower. This means during spring you will have a lot more for yourself!
Specifications
Features
Videos
Specifications
24.5hp Toro Commercial V-Twin Engine
50" (127cm) with 3 blades
18,330 ft/min (5,587 m/min)
Fabricated 10 gauge steel
Toro MyRide Suspension system
1 at the front and 2 at the rear
MOW: (11.3 km/h / 4.8 km/h) TRIM: (8.8 km/h / 3.8 km/h) TOW: (6.4 km/h / 2.7 km/h)
18" / 45.7 thickly padded premium seat
13" x 6.5" (33 cm x 16.51 cm) Front, 20" x 10" (50.8 cm x 25.4 cm) Rear
Dual Hydrostatic HG-ZT2200
3yr unlisted warranty (domestic)
Features
Maximum Comfort
Taking a seat on the Toro MyRide platform means you are completely isolated from the rest of the machine. The platform is supported by adjustable springs which effectively absorbs the grounds harsh lumps and bumps for you proving a much more comfortable ride than any other mower on the market.
Ability to Adjust the Ride Settings
The springs supporting the platform are easily adjustable meaning that any user can quickly and efficiently adjust the springs to suit their desires.
High strength cutting deck
These decks have been designed to withstand very tough conditions. The fully welded 48" deck is made from 50 grade high strength steel making it almost 50% stronger than the more common 11 gauge steel decks on the market. What isn't to be overshadowed by the strength of this unit is also the ability is has to provide an exceptionally smooth cut.
Toros smart speed system
This feature allows you to change the speed of the machine for optimum performance for different purposes. Low trim mode allows you to trim closer to save more time, medium tow allows you to tow a range of pieces of equipment and mow range allows you to cut larger areas faster.
Standard Tow Hitch
The tow bar that comes standard with Toro Timecutter HD allows you to tow trailers and more with a simple pin mechanism.
Toro Commercial V-Twin Engine
Toro commercial V-Twin engines were specifically created and designed by Toro to deliver to the consumer an optimal performing engine. They do this my matching the torque curve of the engines to the needs of the Toro decks they power. Tight tolerances help the governor respond more quickly delivering that extra power when you need it the most. Check out the video in the next tab for more information.
No manuals are currently available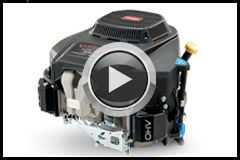 New Toro V-Twin Engine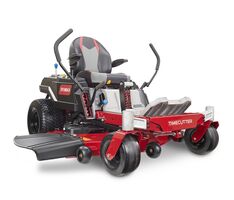 Toro Timecutter Range (NEW)