HUMM90 - Toro / MTD Finance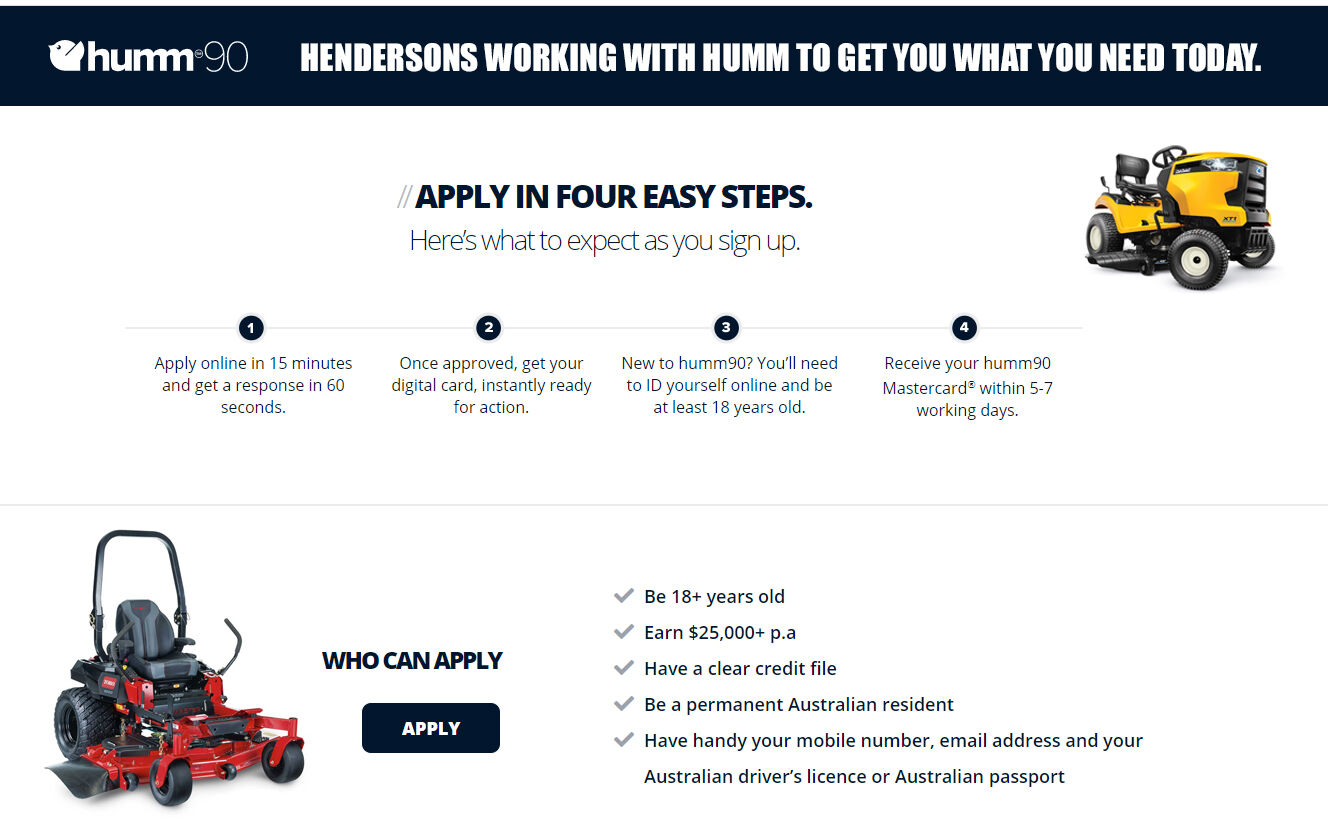 ---
MORE INFORMATION
Here at Henderson Mowers & Chainsaws Ballarat, we understand that not all customers will always have the funds on hand to purchase the equipment they need or they simply like the convenience of being able to pay the unit off. For this reason, we have teamed up with Humm finance so that you can purchase what you need today and pay it off using the interest-free terms available. We can finance the lot, a little, half or only a portion. They are extremely flexible with how we go about it and a great company to deal with!
In addition to this, during certain periods certain brands may partner with Humm to offer exclusive deals across their range, please contact our store to find out more or shoot us a message through the contact us page with all your questions and a staff member will get back to you within 48 hours!
All Humm90 finance offers are STRICTLY off RRP and not any discounted/ cash deals displayed online. The reason for this is all Humm90 terms are offered as "interest-free" to the end-user. For this reason, there are fees involved for us to make this available to you which is why Humm and the brands we work with offer these finance options only off recommended retail price.
PLEASE NOTE: Humm90 is only available for non-ABN holders/ commercial users. If you are a commercial customer seeking new equipment and you wish to finance your tools there is a range of pathways we can go about making that happen for you. Get in contact with us today and we would be more than happy to put forward a finance plan that clearly outlines payments, dates and interest rates at extremely competitive prices!
---
Commercial Finance

---
Financing industrial mowers for contracting and commercial work can be tiring and painful but here at Hendersons, we are working closely with a local finance broker Max from Trident Finance to ensure you get the equipment you need at a great rate. Getting finance for your equipment whether it be mowers, chainsaws or a bundle of things can be overwhelming and an overload of information, talking to Max will simplify the process down the facts and the information you need to know.
Max will work with you to find a deal that best suits your income, lifestyle, and cash flow so that your package is tailor-made to you, often giving you multiple options for you to choose from. A simple discussion with local brokers from Ballarat will leave you with all the information you need to make an informative decision and often can be the difference between you getting the equipment you need to do your job. Brands such as Toro also offer their own financing options through their choice of company which is also an avenue when can explore if that is the brand you wish to purchase.
Contact us today to get in touch with Max and Trident finance so you can begin those larger commercial jobs!