Ride-On Mower Tow Behind Aerator/ Corer
Brand: Agri-Fab
Product Code: CRT24213
Availability:
Available Online, Enquire for in store
AUS-WIDE SHIPPING AVAILABLE

PLEASE READ SAFETY INSTRUCTIONS IN SPECS. BEFORE PURCHASING.
Want to aerate your lawn area so that it looks greener and fresher this spring? Want to be the envy of your street? Then you need an aerator. It's proven that the quality of your grass substantially improves if your grass is aerated as it allows it to breathe and allows you to fill the holes with fertilizer so it hits your roots and lets the grass flourish.T
his convenient tow behind aerator/ corer will allow you to do just that connecting to a range of ride-on mowers including but not limited to Cox, Rover, Toro, Greenfield, Cub Cadet, Husqvarna, John Deere, MTD, Murray, Craftsman and more!
Aerating means pulling small soil plugs, ranging up to three inches in length, from
the soil to create small reservoirs that will bring oxygen, fertilizer and water
down into the roots. For the best aerator performance, the following lawn preparations
and operating procedures are recommended.
For deeper cores the flat surface on the top allows you to place heavy weights such as concrete blocks, bricks, sand bags etc.
Specifications
Ideal for use with many brands of lawn tractor type ride-on lawn mowers including but not limited to selected Cox, Craftsman Garden series, Lawn Series, Professional Series and Yard Series, Dixon D series, Greenfield, Husqvarna CTH, GTH, LR, LT, LTH, YTH, TC and TS series, John Deere CR, D100, L, LT, LX and X series, Jonsered GT, LGT and YT series, McCulloch, MTD Yard Machines and Yard-Man series, Murray, Poulan Pro PP series and Rover etc. lawn tractor type ride-on lawn mower models.
24 knives to penetrate the soil. Knives are manufactured from 12 gauge galvanised steel. Transport handle for easy raising and lowering of the aerator knives. Pulls plugs up to 3 inches deep for thicker and healthier lawn. Tray is 40" x 16" (1016 mm x 406 mm) and manufactured from 13 guage steel then powder coated. Flat free tyres for smooth transport.
Required tow hitch height is between 7" to 12" (178 mm to 304 mm) Recommended towing speed 3 mph (4.82 kph) Due to idle speeds (ground speed) this aerator is designed for use with lawn tractors and is not for use with ZTR's or four wheelers. To avoid damage, the knives must be raised prior to making a turn. Reversing (backing up) is not recommended when the plug aerator is fully loaded. Additional weight of up to 140 lb (63.5 Kg), such as bags of sand or concrete blocks, can be placed on the tray to increase depth of point penetration. Always secure weight to the tray with ties or straps fastened to the front and rear of the tray. Fasten so that the ties cannot become entangled in rotating parts. If the ground is extremely hard and dry, it is recommended that it be sprinkled or watered down for one or two hours prior to aerating.
Aerate compacted soil to promote new grass growth and enjoy a golf course like lawn. Ideal for use with many brands of lawn tractor type ride-on lawn mowers including but not limited to selected Cox, Craftsman, Dixon, Greenfield, Husqvarna, John Deere, Jonsered, McCulloch, MTD, Murray, Poulan Pro and Rover ride-on lawn mower models etc. Aerating means pulling small soil plugs, ranging up to three inches in length, from the soil to create small reservoirs that will bring oxygen, fertilizer and water down into the roots. For best aerator performance, the following lawn preparations and operating procedures are recommended. OPERATION: CAUTION: POINTS OF AERATOR KNIVES ARE SHARP! EXERCISE CAUTION AT ALL TIMES WHILE USING THE AERATOR. 1. Mow lawn and remove loose clippings prior to use of lawn aerator. 2. Start the lawn tractor engine with controls in neutral and place throttle at a slow engine speed. 3. Engage shift lever at the lowest possible forward speed and lower aerator, allowing plugger points to enter the ground. Increase speed as conditions permit. 4. Aerate in the straightest line possible, making overlapping passes to increase the plugger point pattern. 5. Avoid extremely sharp turns with plugger points engaged in ground to prevent damage to lawn. 6. DO NOT cross over foot paths or drive ways without first raising the aerator to the transport position. 7. On sloped lawns, always aerate in an up and down direction. DO NOT attempt to follow the contour of the ground. 8. To increase the depth of plugger point penetration, up to 140 lb (63.5 Kg) of weight, such as bags of sand or (4) concrete blocks, may be added to the tray. The weight can be secured to the tray with ties or straps fastened to the front and rear of the tray. Fasten so that the ties or straps cannot become entangled on rotating parts. 9. If the ground is extremely hard and dry, it is recommended that it be sprinkled or watered down for one or two hours prior to aerating. 10. DO NOT attempt to aerate if ground is too wet, (muddy). 11. Due to sm
No features are currently available
No manuals are currently available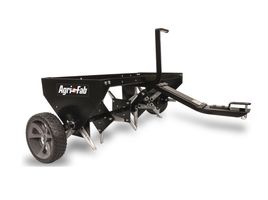 Tow Behind Aerator/ Corer