Mikasa Reversible Plate Compactor Yanmar Diesel 341kg MVH-308
Brand: MIKASA
Product Code: FT272783-UNIT (MVH-308)
CAN FREIGHT AUSTRALIA-WIDE
REQUEST A QUOTE TODAY
To maximise efficiency and get the best soil compaction results Mikasa is the only brand you should have in your crew.
The compaction of sand, gravel, and cohesive soils in trenches or on larger construction projects has never been easier. This particular model features a diesel 6.7HP engine that operates a plate that is 445 x 860 (mm) and weights 341kg without the plate extensions bolted on.
The handle features a first-class anti-vibration rubber mount to reduce the vibration felt by the operator at all times and therefore minimise fatigue over prolonged usage periods. The forward and reverse patented control lever allow you to easily switch control of the unit from a forward motion to reverse which is patented by Mikasa themselves. These features provide a seamless and smooth transition between both forward and reverse travel.
The hour meter allows you to easily maintain the unit and keep the servicing up to date at all times. There are now no excuses to not look after this machine on a regular basis. The super tough and rugged design protects the unit and engine from abuse, the whole unit is enclosed and easily accessible once you open it up using the specially design hinge system. This design gives you maximum protection whilst making it easy to work on when required.
The cyclone air filter gives the unit superior air filtration in order to lengthen service intervals and take engine protection to a new level.
At Hendersons when shopping within a radius of a local shop - we service what we sell. Buy from a store that provides back-up to their products. Now Mikasa holds an industry-leading 4 year commercial warranty.
Specifications
Manuals
Videos
Specifications
341kg without extension plates
445 x 860 (mm) - with no extension plates / 595 x 860 (mm) - with extension plates
No features are currently available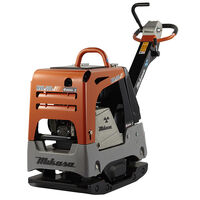 Mikasa Reversible Plate Compactor