Mikasa Forward Compacting Plate 91kg MVC-T90H
Brand: MIKASA
Product Code: FT2CT90H-UNIT
ADD TO CART
IN-STOCK

AUS-WIDE SHIPPING AVAILABLE

DISPATCH WITHIN 24 HOURS (MON-THURSDAY)
Mikasa is a premium concreting product that delivers on reliability and durability all year round.
Powered by the best four-stroke engines on the market, the Mikasa 91kg compactor runs a Honda GX160 engine which is both easy to start and durable when working for extended periods of time.
The MVC-T90H is suitable for compaction of sub-bases and asphalt and is ideally used for road and highway construction. The base plate is made from a durable ductile iron to increase its life span and durability.
The unit is fully protected from unwater damaged as it features an engine rollover frame for superior engine protection. The handles easily fold over to make the unit easy to transport and it features a water tank which is easily removable and features a flow control valve making it ideal for asphalt work or suppression of dust.
The unit features a self-lubricating vibrating system that utilises the rotation of the eccentric exciter weights to ensure even dispersion of oil to the bearings within the unit to increase the service life of your compactor.
The handles have high-quality rubber mounts to greatly reduce the vibration for the operator through their arms and hands. The sealed clutch & belt guard also protects the unit from the vast amount of dust and other unwanted materials that can prematurely wear the clutch components.
Specifications
Manuals
Videos
No features are currently available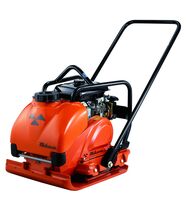 91 Kg compactor