Honda Battery Brushcutter HHT36 (Tool Only)
Brand: HONDA
Product Code: HHT36
ADD TO CART
Designed by the pros for the pros.
With the serious contractor in mind, Honda has developed and produced a battery-powered brushcutter that ticks all the boxes.
Bullbar design for prolonged usage but minimising fatigue and maximising operator efficiency. This tool is perfect for slashing through large areas of grass and tackling tough scrub which is everything a professional needs.
The battery-powered 36v brushless motor can handle day-to-day usage delivering sustained usage, high power, and great efficiency. This item can tackle the grass with either the durable automatic head or be fitted with a three-tooth heavy-duty blade!
Australia-wide shipping - tool only.
Specifications
Features
Videos
Specifications
Bump Head / Blade 4Ah: 33 / 60 mins 6Ah: 50 / 90 mins 9Ah: 75 / 135mins
1 year commercial / 2 years domestic
Features
POWERFUL PERFORMANCE
By developing a new generation of high-capacity batteries and a powerful, 36-volt electric motor, Honda's engineers ensured that the HHT36 Battery Brushcutter offers superior cutting performance just like the Honda standard! Honda's new generation Battery Brushcutter boasts innovative battery technology and uncompromised cutting performance for the toughest applications. Get premium performance without the headache! The HHT36 Brushcutter has a low vibration level of <2.5m/s2 and is super quiet so is ideal for early starts and late finishes.
UNIVERSAL BATTERY SYSTEM
Powered by Honda's Universal Battery System, you can use either of the three available batteries: 4Ah, 6Ah and 9Ah across the HHT36 Brushcutter and Honda's entire Battery product range. Ensuring the longest possible run time without compromising power, the Thermo-Smart technology continuously monitors the voltage and thermal performance of every cell. Long day on the job? Simply swap or recharge your battery in moments. That means getting through the day without forced breaks. What's better is that when using the 9Ah battery, you can operate the HHT36 Brushcutter in all weather conditions.
SAFE AND EASY OPERATION
Honda's HHT36 Battery Brushcutter keeps you comfortable and safe. Featuring an included harness that can be adjusted to fit you perfectly, this provides optimum balance when supporting the Brushcutter during operation. Widely spread handlebars offer comfortable control even when you're tackling tricky terrain and give precise changes of direction with minimal effort. A padded guard sits between your hip and the Brushcutter to ensure you feel fresh even after a long day's work. Safety is paramount- the blade releases automatically if it jams, preventing the motor from stalling.
HEAVY DUTY 3TOOTH BLADE
To help tackle tough undergrowth, the HHT36 Battery Brushcutter comes with a three-tooth blade head. The blade is designed to make light work of heavy-duty garden management. So when you need to slash through stubborn scrub, do it with ease using the 3 tooth blade head on your HHT36 Brushcutter.
AUTOMATIC LINE HEAD
The line head features a 'tap & go' automatic feed of the nylon line, ensuring that every cut is as precise and powerful as the other. So when you're cutting large areas of lightweight scrub, you'll always get that perfect Honda finish using the HHT36 Battery Brushcutter.
No manuals are currently available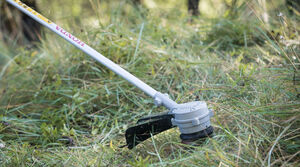 HONDA HHT36