Stihl MSA 120 C-BQ Lithium-Ion Technology (Battery & Charger Inc.)
Brand: STIHL
Product Code: 12540115884
Availability:
Instore Sales Only
(Console only $339)
Stihl has put their superior minds to work and come up with a battery power solution that will revolutionise the lithium-ion power tool market.
Making a range of products that are both efficient, affordable and quiet. This chainsaw is capable of cutting up too 100 logs off one charge and with its lightweight, ergonomic design and quiet operation is serves a number of purposes for consumers. Equipped with high quality safety features such as a chain break and Stihl quick chain tensioning tools all developed over a long time by Stihl as the refined the product to perfection.
Better yet, the battery that comes with the unit is compatible with all other Stihl products in this range. Meaning that once you buy one unit with the battery you only have to buy the console of the other units as they can share the only battery.
Specifications
Features
Videos
Features
Quiet Operation
The lithium-ion battery power technology means no fuel powered engine operates the product making it much quiet and more environmentally friendly
Stihl Quick Chain Tensioning
This device means you can easily change the tension of your chain tools free! Just flick open the flap and rotate it with your hand, its that easy!
QuickStop Chain Brake
Safety is held at an extremely high regard by Stihl which is why this chainsaw is fitted with high quality safety brake system. Users can trigger the chain brake directly at the rear handle or also by using the front chain brake handle. When activated the chain will stop within seconds promoting safety for the user and others around the chainsaw.
Stihl Ematic-System
The ematic chain lubrication system developed by Stihl ensures pinpoint lubrication of the saw chain links so that the bar is efficiently and effectively lubricated. This prevents both wear and tear on the chain and bar
No manuals are currently available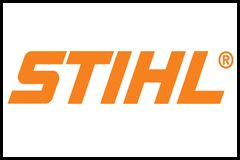 Lithium-Ion Chainsaw