Stihl BGA 200 Lithium Blower
Brand: STIHL
Product Code: BA010115900
Availability:
Special Order
This is a special order item - please allow 7-10 days for dispatch or click and collect
This is one of the mower powerful battery blowers on the market.
Designed for professional cleaning jobs the BGA200 can produce 21N blowing force which is more than enough to clear parks, school yards, paths, and more. Low noise means no ear muffs are required when on the job and you can easily work in noise-sensitive atreas.
This unit has a number of ways it can be used but more commonly it is purchased alongside the hip clip so that the operator can easily and comfortably use the blower for an extended period of time. The battery is not placed into the unit, this product is operated via a cord connection which can be powered via a backpack battery or AP battery adaptor kit located on your hip or in a backpack.
Cruise control means you don't have to hold the trigger in and variable speed gives you full control over the unit.
The most powerful battery-powered blower in the STIHL line, the BGA 200 handheld blower not only provides nearly 25% more blowing force than the BGA 100, but is ideally suited for low-noise environments, and delivers a range of features that allow professional landscapers, and homeowners with large properties, to take on almost any blowing task. With no onboard battery, users can enjoy a lightweight, ergonomic design.
Quiet operation allows homeowners and professionals to work at times and in areas where noise may be an issue. The three power levels with variable speed as well as a boost mode help tackle stubborn debris, and the cruise control setting allows users to maintain blowing force without holding down the trigger. In addition to performance features, the adjustable blower tube with a metal ring gives operators the ability to adjust tube length to what works best for them with a single push of a button, and the metal ring provides durability and protection against wear.
No features are currently available
No manuals are currently available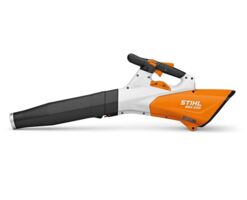 BGA200