Victa V-Force 18" Cordless Lawn Mower
Brand: VICTA
Product Code: VLM-4018
ADD TO CART
Victa's revolutionary V-Force range of cordless power equipment showcases a 18" mulch or catch lawn mower with swing back blades. The mower is power by a 40 volt lithium-ion battery mowing up to 360 square meters per charge (included with mower).

The durable steel cutting deck means that this cordless mower still has the same strength as the petrol powered ones. Unlike previous cordless mowers which were made from plastic.

Its easy to start with the push of a button and the battery only takes 2 hours to fully charge. The V-Force lawn mower also comes with a 2 year domestic warranty.

NOTE: Battery and charger is included
Specifications
Features
Videos
Specifications
Single Charge Cutting Area
Soft Grip with Lower Loop
Features
40 Volt Lithium-Ion Battery
The huge lithium-iron battery gives you the ability to mow with a lightweight cordless mower that produces no emissions benefiting you and the environment.
Swing Back Blades
The swing back blades enable the Victa V-Force to withstand some rigid objects you may encounter in your yard making it more durable.
Ability To Mow 360 Square MetersThis cordless mower has the ability to mow 360 square meters off one charge.
No manuals are currently available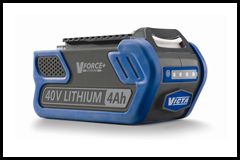 V-Force Victa range