GrandStand® MULTI FORCE 52" 26.5HP EFI Engine
Brand: TORO
Product Code: 72529
Availability:
Special Order
This is a special order item - please allow 7-10 days for dispatch or click and collect
special order from the USA
request a quote today
attachments sold separately (cutting deck comes standard)
If your serious about your gardening and want one machine to do multiple jobs, increase productivity and reduce downtime then the Toro Grandstand Multi-Force is the unit for your team.
This machine offers everything you want when it comes to grass cutting and more! It is 25% faster than most other grandstands doing speeds of up to 16kmph. The operator platform increases productivity as it allows you to quickly and easily disembark from the unit to complete tasks on the go and then jump back on to continue your work. By keeping the operator on their feet their ability to complete multiple tasks quickly is greatly increased. The operator platform quickly folds away and lets the operator walk behind the unit which is particularly handy when takingly slopes and uneven terrain.
The design of the unit allows you to easily see the ground ahead with greater visibility and control over the unit. The larger fuel tank means more work in between fuel refills and the unit features the ultimate Toro Turo Force cutting deck.
The optional extra attachments that can be fitted to this unit make it so unique. This unit can have fitted a blower, aerator, twin bagger, dethatcher and a multi force mulch dumper.
If you are looking for a unit that can basically do it all then the Toro Grandstand Multi-Force is the perfect addition to your fleet. Powered by a fuel-efficient, reliable V-Twin Kohler engine you will always have plenty of horse power at your disposal.
If you are interested in a unit please contact us with information regarding which unit and the attachments you are seeking and we will put a quote together for you and take care of the whole process if you decide to go ahead.
Specifications
Features
Manuals
Videos
Specifications
26.5 hp Kohler Command EFI 747cc
6.4 mm (1/4") thick heat-treated steel
28 x 13-13 cm flat free semi-pneumatic
80-grade 7-gauge 132 cm (52") TURBO FORCE® w/bull-nose bumper
Integrated hydraulics (no hoses)
EZ-Vac Powered Bagger, Pro Force Debris Blower, Tine Rake Dethatcher, Hooker Aerator
22.9 cm diameter cast aluminium
Unit: 5 years or 1,200 hours Whichever occurs first. No hour limit on the first 2 years Engine: 3 years * See retailer for details.
Features
25% Faster
The up to 16.1 km/h transport speed gets you to your next destination 25% faster.
Compact
These machines take up minimal room on transportation trailers. This allows room for multiple machines on the trailer and increased productivity.
Traction on Hills
The GrandStand unit has a low centre of gravity making it a lot more stable on hills and slopes as it hugs the surface. The operator can easily shift their weight also to make the ride much more comfortable.
Comfortable Ride
The operator platform is on self adjusting suspension, large surface area to plant your feet and curled edges to provide the operator with a more secure stance.
Better Visability
Operating the GRandStand gives you exceptional visibility of the turf in front of you resulting in less property damage and a better finish.
Easier Maintenance
Access to both side of the engine, the hydros and controls with ease by simply removing the tank.
Extended Fuel Tank!
The larger fuel tank means longer intervals of cutting in between refills and the less refills you have to do then the less time you spend off the unit. The transparent tank also makes it easy to see how much fuel you have left.
Ultimate Cutting Deck
What a unit. The deck is Toros well known Turbo Force cutting deck fitted with a 7 gauge steel frame which is fully welded and fitted with the bullnose bumper. Massive 1" spindles and 9" spindle housings for durability and reliability! No other decks on the market are as strong as the Toros. B section belts and durable long lasting blades.
High Quality Blades
These things are 6mm thick! Tested against flexing and are heat treated and made from high strength steel. The high-strength heat treated steel survives impacts and provides resistance to premature wear in abrasive conditions.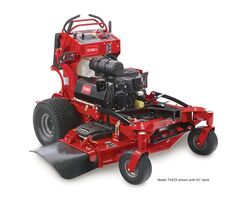 Grandstand multi-force