Honda HRC216PDU Lawn Mower
Brand: HONDA
Product Code: HRC216PDU
Specifications
Features
Videos
Specifications
OHV - OHC with cast iron bore
Features
Honda 4-stroke Technology
All you need to put in you fuel tank is straight unleaded fuel. Removing the hassle of fuel mixing.
Honda GSV160 Engine
Lightest engine in its class featuring a cast iron cylinder sleeve, two-stage air filter, ball bearing supported crankshaft, electronic ignition and mechanical governor.
Huge 88 Litre Catcher
The mammoth 88 litre catcher will significantly reduce the amount of stops you take to reduce the bag. Resulting in quicker mowing times meaning you can get more jobs done in the same amount of time.
Reinforced Handlebars
The handle bars have large diameter 1" tubing that is more supportive and durable. The heavy duty cabling ensuring that they are sealed to maximise the life span of the mower
No manuals are currently available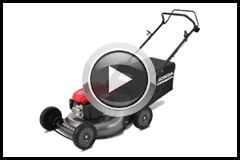 Honda HRC216PDU Demo Video