Stihl FSA 57 Lithium-Ion Line Trimmer
Brand: STIHL
Perfect for domestic use the FSA 57 is light, quiet and easy to use.
This line trimmer will allow you to easily maintain your lawns and edges without the hassle of a petrol engine.
Available as a skin or in kit form, this unit will run for up to 25 minutes with the AK10 battery. The variable shaft length means that the tool can be tailored to suit the user!
With a soft crib handle and ergonomic design, cutting your grass has never been so easy. Better yet, the battery that comes with the unit is compatible with all other Stihl products in this range. Meaning that once you buy one unit with the battery you only have to buy the console of the other units as they can share the only battery.
Specifications
Features
Videos
Features
Soft Grip Handle with Control Lever
The comfortable design of the line trimmer handle is fitted with a soft grip material for easy use, reducing vibration and reducing fatigue.
Quiet Operation
The lithium-ion battery power technology means no fuel powered engine operates the product making it much quiet and more environmentally friendly
Intermediate battery position in the device
The device has two stages in which you can mount the battery. The first, is the intermediate stage where the battery is locked in for storage but not touching the contacts so it won't operate. The second, is the operating position is where the battery is touching the contacts and will operate once the throttle is engaged.
Soft Grip Ergonomic Handle
The handle design and material acts as an anti vibration mechanism making the product a lot nicer to hold and operate.
No manuals are currently available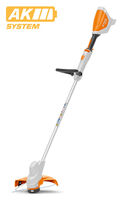 FSA57