Stihl GS 461 Concrete Saw
Brand: STIHL
Product Code:
Availability:
Available on Request
This tool combines the features of a chainsaw and a concrete cutting machine to give you a versatile tool on the job site. This tool will enable you to cut concrete easier, quicker, and with operator comfort in mind.
The stihl 2 mix engine gives you plenty of grunt to get the job done all whilst producing lower emissions. The tool is also equipped with Stihl's high-quality anti-vibration system to greatly improve operator comfort and reduce fatigue.
The maneuverability of this concrete saw is what sets it apart from the rest when it comes to cutting concrete - it is designed for freehand cutting in concrete with re-enforcing, natural stone, sewage pipes (concrete, ductile iron) and general masonry. It is perfect for tight areas or close up against a 90-degree corner - designed and produced for professionals, hire companies, plumbers, brickies, landscapers and more.
It comes fitted with a diamond abrasive chain-water hose attachment to feed water directly onto the bar and a heavy-duty sprocket and air filtration system. The rubber pad at the front protects the engine whilst cutting and the tooless caps make for a tight seal and easy refilling.
No features are currently available
No manuals are currently available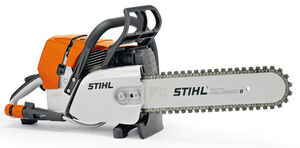 Stihl GS 461 Chainsaw