Greenfield 50yr Anniversary Deluxe V-Twin 25hp 34" Cut
Brand: GREENFIELD
Availability:
Out of Stock
No longer coming back intostock as these were a limited edition item but we are leaving the item online just for interest purposes's! (What a beautiful looking unit!!)
To celebrate 50yrs of production Greenfield has released 30 limited edition deluxe Greenfield mowers with a GOLD automotive 2 pack paint job. These machines look that good you've just got to have one, even if you have no grass to cut! We only have three so get in fast now! The Greenfield products are Australian made for our conditions. Cutting our grass like no other ride-on mower can.
This model is one of Greenfields deluxe products meaning it has a larger deck at 34", bigger wheels, a differential lock and mammoth V-Twin 25hp Briggs & Stratton engine. The cutting blades are on a disk, with the front of the deck cut open providing optimum cutting ability. By having the front of the deck open, the grass doesn't get pushed flat.
This accompanied with the fast blade speed it why Greenfield mowers can mow grass a meter high! (like in the video below) The differential lock makes the Greenfield ideal for tight areas and uneven surfaces too meaning you would have a product suitable for all conditions. The Greenfield design is tough and simple which is why they last for so many years. If you want a ride on mower that will last for years buy a Greenfield.
Specifications
25hp V-Twin Briggs & Stratton Engine 4 stroke
Friction (single peddle operative, forward & reverse)
Yes (heavy duty park brake & emergency brake)
Large turf tread tyres that are on rust free hubs on ball bearings
Steel panels NO plastic, all zinc coated
1 drive belt and 1 cutter belt
No features are currently available
No manuals are currently available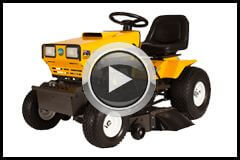 Mower Demonstration