Greenfield Ride-On Mower V-Twin 25hp 42" cut
Brand: GREENFIELD
Product Code: GT22885
Specifications
Features
Videos
Specifications
25hp V-Twin Briggs & Stratton Engine 4 stroke
Friction (single peddle operative, forward & reverse)
Yes (Heavy duty park brake & emergency brake)
Large turf tread tyres that are on rust free hubs on ball bearings.
Steel panels NO plastic. All zinc coated
Drive belts self-adjust for your convenience.
Features
Greenfield Spindle Housing and Blades
The Greenfield is fitted with twin back blades which are stronger, provide a faster blade tip speed and are inexpensive to replace. These blades and the cutting disk is mounted to a heavy duty cast iron spindle housing with high quality triple sealed ball bearings to ensure your buying a product that is built to last.
Greenfield Patented Quick lock differential
This is one of the most valuable features on the deluxe ride on mower. It gives you the ability to either run a solid axle for maximum traction of hills, slops or muddy conditions or alternatively you can run the differential mode. This mode gives you a tighter turning circle and prevents the machine from scuffing your lawn giving you the best of both worlds! Whats even better is the fact it can be changed between the two by simply releasing a tab!
Greenfield Alloy Cutting Deck
The deck design is made from alloy providing you with a deck that is both rust free an impact resistant. The wide chute on the deck also allows for maximum clearance from the deck which is why it is also exceptional at cutting long grass and wet grass because it doesn't get caught in the chute. The unique cut away on the front of the deck which opens it up really makes the Greenfield an exceptional Aussie machine. This allows the grass to enter the deck without being pushed flat meaning you won't have the issue of driving over it then turning behind to see it slowly pop back up! This feature is illegal on americas mowers which is why it is a critical factor for people purchasing a Greenfield mower.
Greenfield Patented Drive System
This drive system has been the corner stone of Greenfield ride on mowers. Tried and proven since 1966, the patented forward and reverse drive system with a single foot peddle has been keeping Aussie yards clean for decades. The smooth and powerful drive will aid you in tight areas and save you time in the wide open ones, just another reason to buy a Greenfield ride on.
Powder-coated Frame
The strong and robust steel frame is finished off with by powder coating it to ensure its long lasting. Theres no plastic on these things, they are built tough and strong which is why you pay substantially more for one in comparison to a cheaper American mower, but its true you only get what you pay for.
Professional Series 25HP V-Twin Briggs & Stratton Engine
The V-Twin Professional series engine made by Briggs and Stratton in the USA will provide plenty of grunt to help clear and cut longer wetter grass. The larger engine has no issues powering through thicker grass, capeweed or wet lush green grass. The Dura-Bore cost iron sleeve withstands wear and holds up longer against abuse ensuring a more durable and longer last engine for your machine. The OHV design lets the engine run cooler and cleaner for a better fuel economy outcome and also increasing the engine life of the machine which are all feature contributing to the fact Briggs & Stratton expect it these to be contributed to 40% longer engine life than the expected life standards of a Briggs & Stratton Intek engine. This is complimented by an advanced debris management system which utilises an well engineered air filter that cleans the engine by deflecting and ejecting grass and debris. Rounded off with a full pressure lube system and fitted with electronic fuel management meaning your mower will start as consistently as your car (assuming your car starts isn't a lemon!)
No manuals are currently available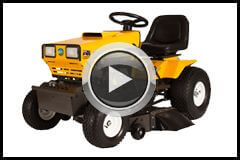 Greenfield Fast Cut Series Video