Toro Zero-Turn Mower TimeCutter MX4225 42"
Brand: TORO
Product Code: 75746TA
Specifications
Features
Manuals
Videos
Specifications
22.5 hp V-Twin Kohler Engine (708cc) with a self-cleaning air filter system
42" (107cm) Fabricated cutting deck
11" x 4" (27.9 cm x 10.2 cm) Front
18" x 7.5" (45.7 cm x 19.1 cm)
3yr warranty (limited) - no hour limitation
Features
Heavy Duty Rear Engine Guard
The heavy duty steel guard protects the engine from anything that may come into contact with it as you mow your lawn.
11.4 Litre Fuel Capacity
The extra large fuel tank allows you to mow your lawn with fewer petrol stops saving you loads of time! The petrol cap is also easy to locate and fill when needed.
42" Fabricated Cutting Deck
The fabricated deck is welded together using plates of 10-gauge steel. Accompanied by the bull nose bumper this deck is as tough as they get.
Washout Ports
These handy wash out ports are a nice and easy way to wash the bottom of your deck without getting yourself wet!
Tow bar Kit
The tow bar kit comes standard on all TimeCutter models, meaning you can attach a trailer to tow fertiliser or even cart wood for the fire.
Automatic Parking Brake
The park brake engages itself automatically when the control arms are shifted outwards.
Hour Meter
The electronic hour meter helps you to keep track of the amount of hours spent on the machine for servicing and maintenance needs.
3 Year Limited warranty (no hour limitations)
The warranty is for defects in materials and workmanship for three years.
Toro MX Zero Turns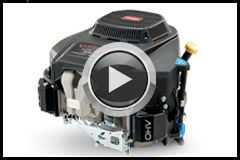 New Toro V-Twin Engine