Toro Zero-Turn Mower Z Master Commercial 3000 Series (60" Cut)
Brand: TORO
Product Code: 74950
Specifications
Features
Videos
Specifications
25.5hp V-Twin Kawasaki Engine
Turbo Force 7-gauge high strength steel
Premium grease able ball bearings
0.6cm thick heat-treated steel
5 years / 1200 hour limited warranty and 5 years / 1200 hour spindle limited warranty. *contact us for further details
Terms & conditions apply to finance options.
0.6cm thick heat-treated steel
Features
V-Twin Kawasaki Engine
Kawasaki is arguably the most reliable and durable engine on the market with a huge 25.5hp and 852cc you will never be lacking in power.
Exclusive TURBO FORCE Deck
The Toro exclusive high strength cutting deck is designed and manufactured to withstand the toughest conditions. Made from high strength 7-gauge steel while still delivering the ultimate cutting performance and finish.
Tough Spindle Assemblies
Toro's 3000 series is equipped with high commercial grade spindle assemblies with a durable cast aluminium housing and solid 1 inch steel spindle shafts acting to absorb large impacts and spread them across a broader surface reduce the impact. They also cool quickly enhancing durability and performance. The sealed maintenance free bearings give you one last thing to worry about
Unitized Pump And Wheel Motor
Toro's high-tech unitized pump and wheel motor incorporates proven commercial hydraulic components while eliminating hoses and other potential leak points. This in return provides you with a smooth, faster response when steering producing a more dependable machine.
Heavy-Duty Air Filtration System
The high quality heavy duty air filtration system protects the engine from contamination and damage extending its life and efficiency.
Folding Rollover Protection System (ROPS)
Safety is a huge aspect and concern to Toro when designing their products which is why their ROPS and seat belt application is standard across all commercial grade machines. Protecting the operator in the unlikely situation that they where too roll or tip the machine. The roll bar can also be easily folded without the use of tools so the machine because more accessible to different areas such as under trees.
No manuals are currently available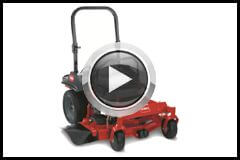 Toro Z master Zero Turn Mowers