Toro Z-Master 2000 Series MyRide HDX 52" 24.5HP
Brand: TORO
Product Code: 74493
ADD TO CART
This thing is smooth, comfortable, and ballsy. The brand new Toro HDX 2000 Series MyRide Toro is now in Australia and it offers everything you need in a Toro zero turn mower. The huge Toro 7 / 10 gauge deck is built on performance and strength which is back by industry-leading spindle assemblies and shafts, large wheels, and the ever-reliable 24.5hp engine.
Toro controls everything on this unit from the build to the finish including the engine which makes the Toro brand one of a kind. The spare parts process, the communication process, and the design process all begin at Toro and finish's with Toro meaning no third parties involved which is comes to engine manufacturers. The V-Twin unit with a canister style air filter is the perfect combination of power and reliability to give you a product we know you will love.
The MyRide system. This technology is unmatched in the industry and will make maintaining your property a comfortable task for your back and body, not a painful one! The MyRide features 3 independent shocks that isolate the operator from the platform making reducing the vibration and shocks which can be felt when using conventional seating systems. Backed by a 4-year - 750-hour warranty* you know you're purchasing a unit that is designed to last.
For finance and other questions don't hesitate to contact us today!
Specifications
Features
Videos
Specifications
24.5 hp Toro V-Twin 708cc with Heavy Duty Air Cleaner
5" (12.7 cm) deck depth, 7/10-gauge high-strength steel
Foot (option deck lift kits available at add on price)
1.5" - 5" (3.8 - 12.7 cm) in 0.25" (6 mm) increments
Tool free foldable ROPS bar
3 in total (2 at rear and 1 at the front)
Deluxe seat with padded armrests
5 point adjustment on rear shocks
8" (20.32 cm) Alum Sealed Ball Bearings, 1" (2.54 cm) Shaft
Front 13" x 6.5" - 6" Cage Bearing / Rear 24" x 12" - 12" diameter rim Front 33 cm x 16.51 cm - 15.24 cm Cage Bearing / Rear 60.96 cm x 30.48 cm - 30.48 cm diameter rim
See us for full warranty details
Features
MyRide
The most comfortable operating and durable operating system in the market. 3-shocks with 3" of travel take the heavy hits for you leaving the operator with an extremely comfortable ride
Turbo Force Deck
7 / 10 gauge decks which are durable, strong and high performing with a fully welded bumper bar to the front of the deck. Quick release spindle covers and tough belts make this unit as strong as it should be.
24" Wheels
Extra wide wheels helps to prevent damaging the turf when turning and gives you a smoother ride.
Toro Engine
Toro. The four most important letters you can see on an engine. This company has dedicated itself to making high end equipment and their engines are no different. They control the production of this unit from start to finish. The have the parts for the unit and they have the parts for the engine - it changes the game. Streamline you grass cutting with one brand, the Toro brand. A canister air filter gives you commercial air filtration and the v-twin 24.5hp engine gives you all the power you need.
No manuals are currently available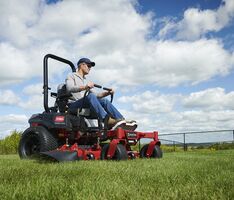 Toro HDX