Toro Zero-Turn Mower TimeCutter SS5000 50"
Brand: TORO
Product Code: 74731
Specifications
Features
Manuals
Videos
Specifications
24.5 hp Toro V-Twin Engine with Self-Cleaning Air Filtration System
3 Year Warranty (Limited)
Subject to suitability assessment and credit approved applicants only on a Lombard 180 card. Terms, conditions, fees and charges apply. Minimum finance amount applies and is determined by the Interest Free Term. The indicative weekly repayments advertised exclude the $99 Annual Fee, charged on the account open date and annually on the anniversary of the account open date. The Annual Fee needs to be paid in full within the 55 day Interest Free Term as part of the first repayment to avoid interest charges. The indicative weekly repayments assume no additional purchases, cash advances or any other fees and charges. Interest, currently 22.99% p.a., is payable on any balance outstanding after the Interest Free Term. Ask in store for details at participating dealers only. Offer is available from 7th December 2015 to 31st March 2016 or while stocks last. Credit provided by Lombard Finance Pty Limited ABN 31 099 651 877, Australian Credit Licence number 247415 (Lombard). Lombard® is a trademark of Lombard.
Features
Toro V-Twin ZX Series Engine
Toros new 24.5hp V-Twin engine providing quality performance in speed and ability. The engine features a patent pending self cleaning air filtration system to keep dirt for getting to the air filter ensuri
Heavy Duty Rear Engine Guard
The heavy duty steel guard protects the engine from anything that may come into contact with it as you mow your lawn.
11.4 Litre Fuel Capacity
The extra large fuel tank allows you to mow your lawn with fewer petrol stops saving you loads of time! The petrol cap is also easy to locate and fill when needed.
50" Cutting Deck
This pressed, side discharge cutting deck is 10.2cm deep and provides an efficient cut across all conditions. And with a larger cut than the 42" you will be saving yourself plenty of time. Mulching kits can be attache
Washout Ports
These handy wash out ports are a nice and easy way to wash the bottom of your deck without getting yourself wet!
Heavy Duty 10 Gauge Steel Frame
The heavy duty frame is designed so the Toro SS range is strong and robust against all conditions, ensuring a long lasting product for their costumers.
Tow bar Kit
The tow bar kit comes standard on all TimeCutter models, meaning you can attach a trailer to tow fertiliser or even cart wood for the fire.
18" Tall Seat with Arm Rests
This comfortable extra-tall seat provides the ultimate support system to your back ensuring your ride is smooth and pain free.
Dual Hydrostatic Drive System
By installing independent hydrostatic drives our mowers obtain the ability of a zero turn, increasing manoeuvrability. Meaning you can get your lawn mowed faster, giving you more free time to do the thing
Hour Meter
The electronic hour meter helps you to keep track of the amount of hours spent on the machine for servicing and maintenance needs.
Automatic Parking Brake
The park brake engages itself automatically when the control arms are shifted outwards.
Non-Slip, Easy to Clean Floor Plan
The floor pan has selected holes allow you to to hose the foot area and the water will simply fall through.
3 Year Limited Warranty (no hour limitations)
The warranty is for defects in materials and workmanship for three years.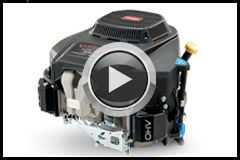 New Toro V-Twin Engine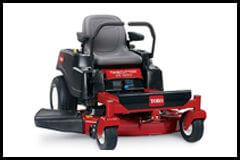 Toro Zero Turn SS Series