Toro Zero-Turn Mower Z Master Professional 6000 EFI Horizon (60" CUT)
Brand: TORO
Product Code: 72946
ADD TO CART
PLEASE ENQUIRE FOR DEALS!
The all-new Toro Z Master Professional 6000 EFI is powered by a huge 34 HP Kohler Command Pro EFI with Toro patented Horizon Technology. Turning the blades on a massive 7 gauge 60" cutting deck allows you to cut more grass in a smaller amount of time.
The deluxe suspension seat provides the ultimate comfort for the unit drive absorbing the vibrations of the rough surface. With the installation of the new EFI system, the Toro Z-Master 6000 is now super fuel-efficient with the engine only using the amount of fuel required and no more.
Equipped with Toro's all-new horizon technology maximising productivity, improves fuel efficiency and monitors critical components of the machine to prevent unwanted damage as seen in the video below. It uses a digital screen allowing you to keep track of your mowers vitals to ensure the mower is performing at its peak. The technology lets you choose your performance mode so you can achieve the most out of your machine for the specific job on hand. For a complete rundown of horizon technology please watch the video under the video tab below.
Specifications
Features
Manuals
Videos
Specifications
34 hp Kohler Command Pro EFI
Heavy-Duty Canister Air Cleaner
60" (7 gauge) with bull nose bumper
Hydraulic unitized pumps and wheel motors
2.5 - 14cm (in 6mm increments)
Features
7 Gauge, High Strength Steel
The high capacity turbo force deck delivers a huge amount of strength, top quality cut and increased productivity in extreme mowing conditions. Made of 7 gauge steel which is 33% thicker and 32% higher in
Industry's Toughest Spindle Assemblies
These robust spindle assemblies survive impacts that would resulting in destroying ordinary ones. Featuring an iron housing with a massive base and six mounting bolts helps enable the deck to
A Flat Crisp Cut with Precision Blades
High strength heat treated blade provide a flat superior cut while withholding the strength to survive impacts.
Exclusive Turbo Force Deck
The Turbo Force deck provides a huge amount of strength while still maintaining a superior cut while increasing productivity in extreme mowing conditions.
Deluxe Suspension Seat
This deluxe suspension seat is thickly padded and is constructed on 3-D isolator mounts that absorb the rough terrain you may encounter.
Bull-Nose bumper
The 7 gauge bull nose bumper protects the deck from front on impacts making it more durable and longer lasting. It also acts as a underskirt to minimise blow out of debris and dust.
Operator Controls
Now this is a new addition. The panel is digital and allows you to set rpms, choose modes of mowing for the best fuel efficiency according to the job at hand, whether that is wet grass, tall grass or lawn! The digital display allows you to view engine RPM's, set servicing intervals, view the fuel level and more! This really i the complete commercial mower putting more control in your hands.
Folding Roll Bar Protection
The rollover protection system accompanied by a seat belt is incorporated into the Toro 5000 series. Protecting the operator from potential rollover accidents.
Patented Adjustable Baffle
This feature allows the operator to achieve maximum cutting performance by fine tuning the deck handle some of the toughest conditions, unique jobs or different times of the season. The baffle can be opened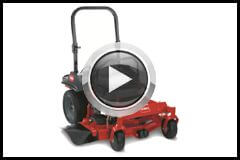 Toro Z master Zero Turn Mowers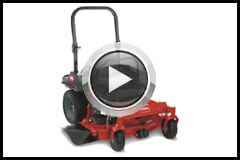 Toro Z Master Easy Maintenance
Horizon Technology 2019