Billy Goat AE1300H - 30" Hydro Aerator
Brand: BILLY GOAT
Product Code: AE1300H
Availability:
Available on Request
We are Billy Goat Turf Specialists with super competitive pricing!
We can deliver/ship also so ask for a quote!
Aerating jobs has never been made easier with the Billy Goat AE1300H. If you want to produce the best work then you have to use the best products and that was Billy Goat turf equipment is. THE BEST.
This AE1300H features a generous 30" wide tine system that can travel at speeds up to 6.9kmp allowing you to cover 1/4 acres in as little as 15 minutes, thats 59% faster than a 26" drum aerator! Woweee.
The patent-pending variable aeration density (VAD) system allows this unit to create more 2-10 times more holes in the turf than drum models in one pass. That's producing roughly 8-48 holes per sq. ft.! This means you only have to go over your turn once and the jobs done. No more double or triple aerating to get the job done right. It also offers the ability to patch repair and seedbed prep in one pass by slowing down over the bare spots.
It also features patent-pending FLEXTECH arms which act independently and are super durable and reliable. The arms action allows the unit to core the turf with holes up to two times deeper than that of a drum corer producing a much high-quality job. You won't be required to go back and redo an aerating job ever again! It's maneuverability is unmatched by anything in its class and you'll never have to lift another aerator again on a turn like you to with those drum ones. The hydrostatic self-propelled unit makes this thing a breeze to operate around all obstacles.
Maintaining your unit has also been made easier! With only eight tines and 4 bolts servicing this unit takes only 10% of the time needed to service a 40+ tine 2 bolt drum aerator! Fitted with a Honda engine also, and nothing screams reliability more than a Honda GX 4-stroke engine.
Specifications
Features
Videos
Features
Variable Aeration Density (VAD)
These are the different aeration patterns you can make according to the speed you travel at. This unit creates 2-10x more holes than the drum style aerator in one pass! This removes the need for double aerating and can even offer you the ability to do patch repair and seed bed prep all in on pass! This is patent pending for Billy Goat Tech.
Reverse Aeration
This thing takes it to a new level by allowing you to aerate in reverse!
In-Ground Turning
This design gives the Billy Goat Aerator unmatched manoeuvrability around the ground. Its ergonomics, easy turning and improved production helps to improve productivity and efficiency when compared to drum aerators.
20 Degree Slopes
The unit is decked out with 15" tyres and a huge 35" wheel base to allow you to tackle 20 degree slopes easily making more jobs accessible to this unit.
Billy Goat FLEXTECH Arms
This is a design by Billy Goat where the arms are acting independently making them durable and forgiving for reliability no competitor can match. The arms utilise a reciprocating acton that can drive plug depths up to 2x that of drum aerators. This reduces the chance of you having to go back to a job or rework one regardless of the soil condition. Do the job once and do it properly with a AE1300H Billy Goat Aerator. Patent Pending.
Fast Tine Servicing
Maintaining the tines is a breeze. 8 tines and only 4 bolts! These are easily accessed and takes only 10% of the time needed to service a 40+ tine, 2 bolt drum aerator.
Self-Propelled and Variable Speed
The intuitive hydro-drive controls allow to be in complete control of the speed of the unit. You can feather the speed of the aerator in both forward motion and backwards with your fingertip! This makes the unit a pleasure to operate and reduces operator fatigue and vibration significantly!
No manuals are currently available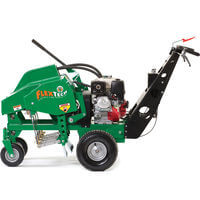 AE1300H