Specials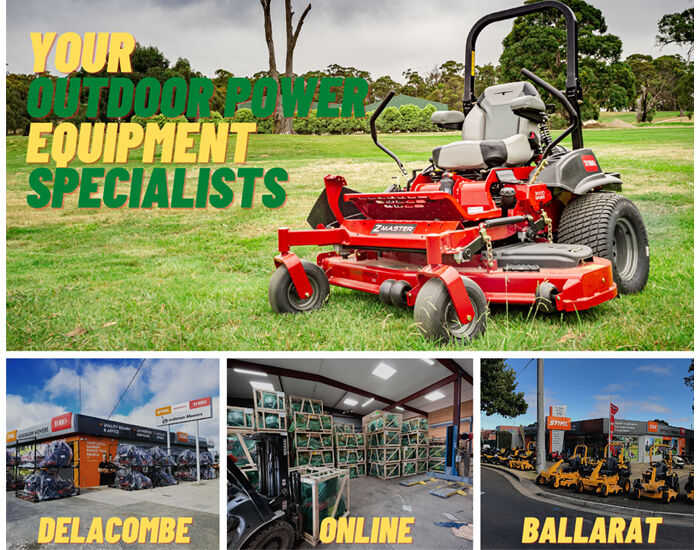 Henderson Mowers and Chainsaws
The best brands at the best prices. Your one-stop-shop for all your outdoor power equipment needs.
Two stores. Two locations. Twice the brands. Twice the knowledge. Henderson Mowers & Chainsaws can now be found at 119 Mair St East, Ballarat and 1125 La Trobe St, Delacombe, showcasing a huge showroom at both locations staffed with local gardening experts to help you get the right tool the first time round! Each store has qualified technicians to help you repair and service your units whilst stocking a huge range of genuine and aftermarket spare parts for all brands.
For inquiries on specific products, equipment or machinery, please fill in our contact form and we will get back to you as quickly as possible, or alternatively dial our phone number for immediate help.
We stock a range of products including zero-turn mowers, chainsaws, ride-on mowers, brush cutters, lawnmowers, quick-cut saws, hedge trimmers, vacuums, mulchers, generators blowers, stationary engines, rotary hoes, kombi tools, Utility Vehicles, slashers and much much more! We are also leading the way in Lithium-ion, battery-powered products having a range of Victa and Stihl products available to purchase with knowledgeable staff that are here to guide you through their details and specifications.
Located in Mair Street and La Trobe St, the largest lawn mower and outdoor equipment specialist and service centre in Ballarat, Henderson Mowers & Chainsaws is your one-stop-shop for mowing, trimming, mulching and all your cutting needs. Stocking leading brands such as Honda, Toro, Stihl, Greenfield, Victa, MTD, Cub Cadet, Billy Goat, Christie Engineering, Briggs & Stratton, and Flextool
Henderson's is always evolving with the retail game. Online you can browse an extensive range of our online goods from the biggest brands, have them delivered to your door Australia wide or reserve the products online to be collected in-store so the goods are waiting for you assembled and ready to go on your arrival. Thousands of high-quality, affordable small engine aftermarket parts can also be browsed and purchased online.