Billy Goat PL1803v 18" Plugr Reciprocating Aerator
Brand: BILLY GOAT
Product Code: 2691897
Aus-wide shipping is available to commercial addresses or the nearest depot - get in contact for a quote. (ROUGHLY $180 - $300 FREIGHT)
The Billy Goat PL 1803 pluger is a reciprocating aerator that carries a very reputable status from the States. Henderson Mowers as a Billy Goat turf dealer will be one of the first dealerships to house this beautiful machine and we are currently taking pre-orders as we speak.
The 18" Plugr is the perfect size to allow you to tackle those smaller properties with ease and you can fit it down the side of a house easily and in the back of a truck without taking up a huge amount of room. This unit does not require any add-on weights as the reciprocating cam-drive tines drive into the turf below and also propel the unit forward. The cores taken from the soil are up to 70mm deep and this is even in hard soil conditions! This feature offers higher-quality aeration than your traditional drums.
The operation of this unit is a no-lift turning feature that significantly reduces fatigue on the operator and the ergonomic handle is also mounted via antivibration buffers. The longer belt span also improves belt de-clutching, increasing belt life! It also features semi-pneumatic flat-free tyres and a super reliable Vanguard 4-stroke engine.
Aus-wide shipping is available to commercial addresses or the nearest depot - get in contact for a quote.
Please note: Video below - unit is only available in Australia as an 18" and is powered by a Vanguard only.
Specifications
1450 x 607 x 1016 (L x W x H)
No features are currently available
No manuals are currently available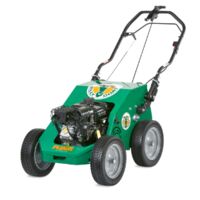 Billy Goat PL1802