Billy Goat Sod/ Turf Cutter 18" SC181H
Brand: BILLY GOAT
Product Code: 883095
ADD TO CART
We ship Aus-wide to commercial addresses or collection at the nearest depot!
Contact us today
Whether you are a landscaper, golf course or professional grounds care, customers, Henderson's has all the Billy Goat turf equipment you need at prices that will not be matched! From start to finish we can take care of the buying process and have the equipment freighted to your location.
The Billy Goat SC18 Series is a sod cutter built for professional and demanding use! With a highly reputable name in the industry when it comes to turf care, by purchasing a Billy Goat you know you are getting your hands on the best equipment on the market. The unit is built on a solid steel superstructure frame that is supporting a robust drive and cutting system.
The machine is fitted with a heavy-duty gearbox and cutting system that is fitted with oversized sealed bearings, tight shaft mounted eccentrics and a one-inch lateral stability bar - all put together into one machine to produce a unit that is designed to perform day in day out.
The unit features a hydrostatic drive that is variable speed via a fingertip control in both forward and reverse for consistent and smooth operation. When compared to other machines on the market the SC181H features the Billy Goat designed "set and forget" height function. This allows you to change the depth of the cut to 2.5" with a single lever from the operator station. The unit comes standard with a rear caster wheel from curved cuts and locks for straight cutting making it ideal for all applications.
The rubber iso-mounts help to reduce the vibration felt, making operating the machine much more pleasurable and reduce the fatigue of the operator.
Other features include an hour meter, a heavy-duty front bumper bar, and six convenient tie-down points!
Specifications
Features
Videos
Features
Unique Paddle-Style Drive Wheels
SC181H model. For landscape applications. Designed to shed mud in wet conditions and grip in dry for improved cutting in all conditions.
Tie Down Points
Convenient tie-downs make machine transport safe.
Rear Swivel Caster
Perfect for curved work or making turns at the end of a pass. Locks for straight cutting.
Vented Housing and Service Doors
Provides increased venting for cool operation. Three easy access service doors located at front / back of machine offer convenient access for servicing.
Set and Forget™ Blade Depth Adjustment
Single lever and clamp at user's operating position adjusts simply, saving time and providing precise cutting depths to 6 cm.
No manuals are currently available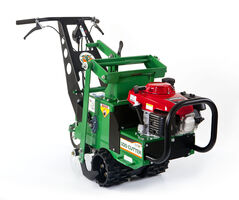 SOD CUTTER 8