Billy Goat Self-Propelled Slasher BC2600HHEU Hydrostatic
Brand: BILLY GOAT
Product Code: BC2600HHEU (1697494)
AUSTRALIA-WIDE SHIPPING TO LOCAL DEPOT, JUST ASK FOR A QUOTE!! (roughly $200-$400 depending on location)

MONSTER MACHINE
USED BY COUNCILS AND SHIRES FOR CLEARING AND HEAVY OVERGROWTH
This monster of a machine designed by Billy Goat has a huge 66cm wide deck with exceptionally high blade speed so you can cut almost anything as seen in the video below! Powered by a reliable Honda engine you can have the peace of mind that this machine has only the best.
Powered by a Briggs & Stratton Intek Series engine that provides strong reliable power to get the job done.
The Tuff Torq hydrostatic transmission accompanied by the automatic enhanced traction control delivers the operator with a state-of-the-art grip so you can handle landscapes that are rough and uneven (up to 20 degrees).
The plow-style handles are extremely comfortable and with the controls there at your fingertips you can go forward or reverse with ease. See more features below such as a heavy-duty spindle, lockable and greaseable caster wheels and a pivoting deck! It also comes with a mammoth 2-year warranty so you can purchase it with peace of mind.
Specifications
Features
Videos
Features
This feature is automatically engaged by the machine when it sensors that the rear wheels are loosing traction and starting to spin. It effectively locks the rear axle giving it great traction to overcome the wheel spin and continue to drive forward. This enables the slasher to be used in all conditions whether that be wet or dry.
This feature definitely helps seperate the Billy Goat from its competitors is the 12 degree pivoting deck that enables the mower to glide over uneven terrain and a blade with supreme blade tip speed for a greater quality cut.
The spindle is super durable and strong, reinforced on four sides to enabling it to handle all jobs.
The lockable caster wheels allows you get a straighter drive on hills so that it doesn't fall away at the front and the greasable wheels ensure that they are very mobile, even after years of use.
No manuals are currently available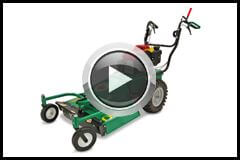 Billy Goat Slasher Demo