Billy Goat Self-Propelled Slasher BC26 Hydrostatic (BRIGGS)
Brand: BILLY GOAT
Product Code: 2692009
Make quick work of underbrush, berries, saplings, lantana, vines, tall grass, and small trees! The Outback® BC26 can cut saplings up to 2" wide and brush 6' tall – all at a rate of just under an acre of brush per hour.
The BC26 has a 26" wide deck with higher tip speed for improved speed and cut quality. This nature-taming performer comes standard with a Tuff Torq™ hydrostatic transmission featuring fully automatic Enhanced Traction Control (ETC), offering superior traction in wet or uneven conditions. Engineered to glide over uneven terrain, the pivoting brush deck hugs the ground for a better cut. This minimizes scalping and improves traction by keeping the weight of the machine on its drive wheels. (Briggs engine version handles up to 15-degree slopes)
±12 degree pivoting deck with a proprietary return to neutral is engineered to glide over uneven terrain. 26" wide deck with higher tip speed for improved speed and cut quality.
Can ship Australia-wide to a depot near you.
Specifications
Features
Videos
Features
This feature is automatically engaged by the machine when it sensors that the rear wheels are loosing traction and starting to spin. It effectively locks the rear axle giving it great traction to overcome the wheel spin and continue to drive forward. This enables the slasher to be used in all conditions whether that be wet or dry.
This feature definitely helps seperate the Billy Goat from its competitors is the 12 degree pivoting deck that enables the mower to glide over uneven terrain and a blade with supreme blade tip speed for a greater quality cut.
The spindle is super durable and strong, reinforced on four sides to enabling it to handle all jobs.
No manuals are currently available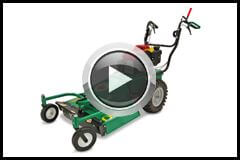 Billy Goat Slasher Demo