Goldacres RVT300 Spray Unit
Brand: GOLDACRES
Product Code: GA4908090
Availability:
Special Order
This is a special order item - please allow 7-10 days for dispatch or click and collect
​​Special order item

Can be customised

Includes Honda GX200 engine, 100m Pro-Reel hose with remote rewind.

Perfect for Weed control, pest control, industrial spraying, contracting.
Got steep or rugged terrain you need to spray? The Pro-Reel® auto rewind Traymount sprayers allow you to spray wherever you may roam. Take the work out of hose reel spraying.
Designed with operator safety and convenience in mind the RTV300 features a forward-mounted 300L chemical tank for extra stability. In addition, a rear-mounted single 100m Pro-Reel® is fitted and provides a compact layout suited to most RTV vehicle tubs. The nylon 12 hose is the toughest, anti-link hose available with an OD of 8mm and a thin wall it enables the hose to neatly fit within the reel with minimal pressure loss.
The petrol engine-driven pump is rated at 40 l/min @ 40 bar (580psi), this allows the operator to apply large volumes of chemical over a large area in a very short amount of time. Excess flow from the pump is used to keep the chemical tank well agitated, ensuring a good even chemical to water mix at all times.
The pump is a simple but effective 12 volt, 150W high torque motor that draws 16 amps and drives at 450 rpm. The gum is a turbo 400 and can handle 70L/min of flow and 700psi of pressure - features a trigger lock handle and easy adjustment from straight stream to fan with a swivel hose connection.
The pro-reel has a 2 channel receiver with a 200m range, 12dc motor with an adjustable v-belt design. Features a swivel hose feeder with 360-degree rollers evenly distributes the nylon hose so it releases with ease. The inlet shaft is high-flow stainless steel external hardware to ensure that the reel can withstand the harshest environments.
Specifications
Udor 40 l/min 40 bar (580 psi) twin diaphragm
Manual 3 way, manual pressure adjustment with dump valve
100m Pro-Reel® remote rewind
Remote engine and pump shut-off 200m range
Turbo 400, adjustable spray pattern, 2.5mm nozzle
Fully welded RHS / tubular construction
1346 x 1149 x 1010 (WxLxH) mm
No features are currently available
No manuals are currently available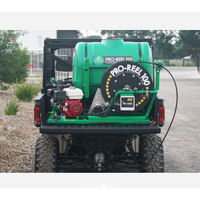 rtv300