Honda UMK435 Bike Handle
Brand: HONDA
Product Code: UMK435
Availability:
Instore Sales Only
ADD TO CART
ASSEMBLED, FUELED, OILED, REGISTERED AND READY TO GO!
The Honda UMK435 Bike Handle is equipped with the latest Honda 4-stroke technology supplying more power and torque than ever. The engine is a GX35 mini 4-stroke engine that is lightweight and easy to handle, and of course, the Honda engine will start first time, every time.
The easy grip bike handle design makes long periods of time brush cutting easier as the weight is distributed evenly across your shoulders meaning the operator is less likely to fatigue. The Honda GX35 produces low emissions and is very quiet compared to their 2-stroke competitors. The Honda brush cutter runs off unleaded fuel there is no need to mix oil and petrol! Your UMK435 is the perfect brush cutter for both commercial contractors and homeowners coming with a 4 tooth metal blade and a commercial-grade nylon line with bump feed.
The auto-decompression, electronic ignition, and anti-flood primer system, the GX35 will deliver and exceptional performance on all levels. And as per usual the UMK35 loop handle comes with a 4-year domestic warranty, as Honda backs their quality products in for the long haul and so should you!
Specifications
Features
Videos
Features
Honda 4 stroke Technology
Honda's 4-stroke engines ensure that you will never have to worry about the hassle of mixing petrol with oil. As Honda engines only take straight unleaded petrol.
GX35 Honda Engine
Super quiet and powerful engine. Giving you all the power you will need to get the job done.
4 Tooth Blade
The four tooth blade that comes with the Honda UMK435 will enable you to cut through a tougher environment including blackberry bushes.
Bike Handle
The bike handle spreads the weight evenly across your shoulders ensuring you can work for long periods of time while not getting fatigued.
No manuals are currently available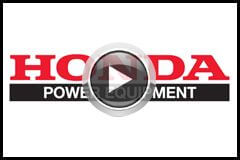 UMK435 brush cutter demonstrations