Honda HRG416 Battery Mower (Push) (Skin)
Brand: HONDA
Product Code: HRG416
When it comes to battery-powered lawn mowers Honda is a little late to the party but if there is anything we have learned from Honda power equipment is that the make take a while to introduce a product but when they do they rarely ever get it wrong.
The lawnmower battery-powered Honda range is no exception to this and features exactly what we would expect in a Honda product, reliability and durability.
The steel deck is lightweight yet durable and powder coated to give it a great finish. The universal battery means that it is adaptable across a range of common garden tools. The engine is super quiet and operates via a 3-phase brushless 1000w motor which is always performing at its optimum no matter the charging level due to Honda's Thermo-Smart technology.
the efficiency of the Honda engine acts to propel the cutting blade up to 2900 rpm and maintain that speed to increase performance.
With a steel deck, lightweight and easy to use design this Honda unit will definitely grab the attention of the serious back yard gardener. This unit can also easily switch from mulch to catch giving you the best of both worlds!
Specifications
170mm (front) and 200mm (rear)
No features are currently available
No manuals are currently available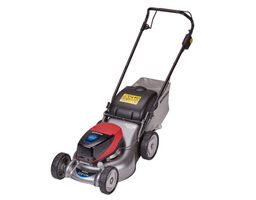 Honda Battery Mowers