Honda Battery Hedge Trimmer HHH36 (Tool only)
Brand: HONDA
Product Code: HHH36
Hedge trimming made so so easy.
The Honda battery-powered HHH36 hedge cutter is perfect for both professional and residential usage. The swiss steel blade slices through the garden shrubs effortlessly, making light work of what's in front of you.
Plants and hedges can now be easily maintained through the optimum performance of the Honda brushless motor. The swiss blade is double-edged and the handle rotates 180 degrees at the rear making cutting a hedge much easier in the upward and downwards motion.
Honda battery technology also means that the unit features minimal vibration and low noise so that you can comfortably use this tool at all hours of the day! Even in noise-sensitive areas.
Aus-wide shipping available - skin only. Battery & charger sold separately.
Specifications
Features
Videos
Specifications
210 x 1260 x 220 (HxLxW) mm
1 year commercial / 2 year domestic
Features
POWERFUL PERFORMANCE
By developing a new generation of high-capacity batteries and a powerful, 36-volt electric motor, Honda's engineers ensured that the HHT36 Battery Brushcutter offers superior cutting performance just like the Honda standard! Honda's new generation Battery Brushcutter boasts innovative battery technology and uncompromised cutting performance for the toughest applications. Get premium performance without the headache! The HHT36 Brushcutter has a low vibration level of <2.5m/s2 and is super quiet so is ideal for early starts and late finishes.
MAXIMUM VERSATILITY, MINIMUM VIBRATION
By combining long-lasting battery technology with a powerful electric motor, together with a rotating rear handle and a perfect weight distribution, Honda's new HHH36 Hedgetrimmer is designed to move smoothly in the most challenging conditions. So take the headache out of cutting the hedges with a low vibration level of 1.9m/s2. It really takes the edge off!
SWISSE STEEL BLADES
Get through the most stubborn branches with Honda's HHH36 Hedgecutter, featuring 600mm Swiss-made hardened-steel double sided roughing blades. With variable speed settings, you can cut through hedges with a blade speed of up to 3000 cuts/min. Better yet, the HHH36 features stall free operation via its intelligent auto release so if you jam the blades, they will instantly stop and release for your safety and the protection of the product.
UNIVERSAL BATTERY SYSTEM
Powered by Honda's Universal Battery System, you can use either of the three available batteries: 4Ah, 6Ah and 9Ah across the HHH36 Hedgecutter and Honda's entire Battery product range. Ensuring the longest possible run time without compromising power, the Thermo-Smart technology continuously monitors the voltage and thermal performance of every cell. What's better is that when using the 9Ah battery, you can operate the HHH36 Hedgecutter in all weather conditions.
No manuals are currently available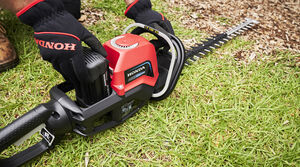 HHH36