Honda GX50 2HP Mini 4-Stroke Petrol Engine
Brand: HONDA
Product Code: GX50TSAUT
Honda's new edition to the mini four-stroke series with a beefed-up 50cc version. If it's more grunt you're after then this is your engine. It is still lightweight in design coming in at only 4.2kg but gives you more torque and more power to get the task at hand done.
Honda small engines are known for their durability, strength, and reliability. This little Honda engine is quiet, fuel-efficient, and easy to start - features you have come to known and love when using a Honda. Perfect for tools that require power such as larger brushcutters for example.
This Honda engine is used commonly on loads of machines from concrete tools, water pumps, construction equipment, and more! This is the world's lightest OHC engine with no fuel mixing required and the ability to operate at full 360 degrees operation as it utilises a rotary-slinger lubrication system. If your after a small engine that you can rely on to power your smaller tools then this GX50 Honda engine is the tool for you.
(see images for GX50 Honda power curve) - special designs for horizontal and vertical applications available also. This engine comes standard with a muffler guard and spark arrestor.
3 year warranty.
Specifications
Features
Videos
Specifications
2.0 HP (1.47 kW) @ 7,000 rpm
1.6 lb-ft (2.2 Nm) @ 5,500 rpm
Counterclockwise (from PTO shaft side)
Diaphragm-type (overflow return)
199 x 260 x 263 (mm) L x W x H
Features
Fuel Efficient & High Output Operation
The operational costs of this GX 4 stroke engine is about half that of comparable 2-stroke units.The superior Honda engineering also allows for a port configuration to maximise efficiency also with large diameter valves that maximise the power output. It also features a lighter, more rigid valve train and a carburettor equipped with accelerator pump for fast and effortless acceleration.
Honda Smooth
Nothing purrs like a Honda and that smooth operation is down the elite Honda engineering. These components are precision engineered to result in lower vibration and a lighter piston contributes to this too. High quality ball-bearings support the crankshaft for greater stability.
Honda Quiet
Everyone knows how quiet the Honda GX engines are. The GX 25 / 35 / 50 has a belt driven OHC design to reduce mechanical noise. This along with the large capacity multi-chamber exhaust system and specially designed sophisticated air intake system all combine to make this unit really quiet.
Honda Reliability
High quality materials, fit, and finish Lifetime. timing belt design Integrated fuel system protection. Diaphragm carburetor. Scratch-resistant Bridge Guard Design provides stability and protects the engine cowling in upside down positions
Maintenance Made Easy
Honda has thought of everything - easy to access spark plug, easy to drain and refill the oil and no mixing of fuel!
Honda Easy Starting
Exhaust decompression system and a unique low inertia design makes the Honda small engine so easy to turn over and start.
No manuals are currently available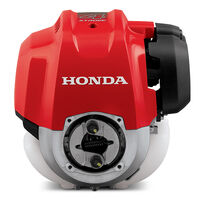 GX50 Honda Engine