Honda HHH25D Hedge Trimmer
Brand: HONDA
Product Code: HHH25D
Specifications
Features
Videos
Features
Honda 4 stroke Technology
Honda's 4-stroke engines ensure that you will never have to worry about the hassle of mixing petrol with oil. As Honda engines only take straight unleaded petrol.
GX25 Mini Honda Engine
Super quiet and powerful engine. Giving you all the power you will need to get the job done.
Anti-Vibration Handle
The anti-vibration handle ensures the operator gets less fatigued during the use of the HHH25D meaning they can work for longer and get jobs done quicker.
Adjustable handle
The adjustable handle means that the HH25D hedge trimmer can go places other hedge trimmers cannot. You can also adjust the handle position for your comfort needs.
No manuals are currently available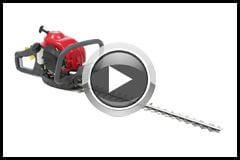 Honda HHH25D Hedge Trimmer