Honda EU22i Generator Package Deal
Brand: HONDA
Product Code: EU22ITU4
Free Aus-wide shipping* with insurance.

24-hour dispatch

Bonus genuine Honda mat, genuine Honda cover (with Henderson & Honda logo), a bottle of Honda oil, Honda security cable, and 12v battery charging leads.
The most popular leisure generator on the market. This unit has a reputation for being a reliable, quiet, and super-efficient source of portable power.
The electricity this generator produces is of better quality than that produced commercially. Meaning that high-quality products with circuit boards can be plugged straight into the generator!
Equipped with 2200W of output power making it ideal for camping and caravanning to run those thirsty air conditioners! The Honda run-dry switch makes it easy to drain the carburetor of fuel for safe storage.
Improved oil access and draining ability makes maintenance a breeze.
This bundle has everything you need and at an absolutely smashing price. The Honda mat is ideal for running the unit on as it doesn't kick up the dust during operation. The security cable is perfect for keeping your unit secure. The bottle of oil will enable you to get the generator running right away with only the addition of fuel once you have filled it up, and last but not least the genuine Honda cover protects the generator from any scuffs or damage during storage or transportation.
Backed by a genuine Honda 4-year warranty that covers your machine Australia-wide through the dealer network.
Get your Honda EU22i generator today from a trusted Australian family business.
Specifications
Features
Videos
Specifications
Ignition primary circuit ground
8hrs (Eco throttle on at 1/4 output)
Multipole field rotation type (inverter)
Features
Improved Oil Access
For anyone that has changed the oil in the previous model or attempted to fill it up they will understand when I say it wasn't the easiest task on your "to do list". Thats why the new model has improved oil access to remove this headache from your every day life.
200W More
The increasing demand to draw more power when we are on the move is being accommodated by the new EU22i with a generous increase of 200W to help you run whatever you want on the move!
Run Dry Mode
An additional feature that also removes a substantial issue is stale fuel in the carburettor bowl. Camping is a seasonal activity and often the EU20i generator would spend months tucked away in the shed without use! You may empty the fuel tank but the fuel sitting in the system is left there. This lead to carby issues and starting problems caused by the stale fuel. Now, they have a run dry element on the switch which clears the complete unit of fuel so that it none is left in the units system when the generator needs to be stored. Now thats an absolute game changer!
Eco Throttle Technology
This enables the EU20i generator to only run as hard as it needs to. Resulting in less noise and a more fuel efficient machine that will last longer than its competitors as they will not over work.
12v Battery Charger
Allows you to conveniently charge the battery on your caravan or car in times of trouble, acting as a very handy get out of jail free card!
Oil Alert
Your Honda EU20i will never be damaged as a result of not having enough oil. The handy Oil Alert system automatically shuts the machine down if the oil falls below the desired amount.
Sinewave Inverter
The top quality Honda inverter produces clean, commercial quality electricity making it perfect for running extra sensitive electrical equipment such as computers.
4 Stroke Technology
All you need is a can of straight unleaded fuel removing that annoying need to mix fuel.
4 Year Warranty
Honda Offers a very generous 4 year domestic warranty and 12 month commercial warranty, and with 400+ dealers Australia wide you will always have someone close to you!
*Postage disclaimer: Although unlikely, some areas are excluded from our free freight offer. If you unfortunately require a delivery that it outside our free freight zone then you will be contacted after you make a purchase. When this is the case we will work with the customer to either subsidies the freight, ship it to a commercial address for collection or allow depot collection.
No manuals are currently available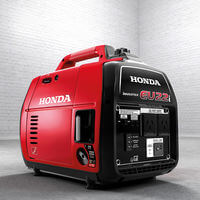 Honda EU22i