Toro ProLine H800 Direct Collect Mower
Brand: TORO
Product Code: 31050
Availability:
Available on Request
Contact mitch@hendersonmowers.com.au to arrange a demo today or request a quote
The mother of all direct collect rotary mowers is here.
This is Toro innovative engineering at its best featuring high-lift collection in a durable compact design that maximises efficiency and minimises downtime. This unit is equipped with an out-front deck design that is super durable featuring a welded bull-nose bumper, heavy-duty caster forks and effective skid protection.
The specially designed Toro deck maximises the airflow created by the blades and deck that in return produces a catching unit unmatched by competitors in the market. The design works even in wet grass allowing you to easily fill the 810-litre catcher which is equipped with a high lift that allows you to easily dispose of them into the back of a truck or trailer. The large capacity hopper means that the operator can mow for longer in between dumping the clippings, this significantly improves productivity as a result. When the hopper gets full the deck automatically shuts off, as a result, preventing overfilling or leaving uncollected grass on the ground!
The Toro smartcool feature has an automatic reversing fan and automatic deck cleaning wipers in the discharge chute to prevent clogging and maintain the catching quality throughout the day. The huge 41 litres of diesel means you can operate for extended periods of time with less refills and less downtime!
This unit is ideal for urban areas and parks with a high-performance cutting system that delivers a clean quality of cut all the time.
Specifications
Yanmar; 3-cylinder, liquid-cooled, diesel. Rated Power 17.5 kW (23.8 hp) @ 3,000 rpm, Gross Power 19.2 kW (26 1 hp) @ 3,000 rpm. High idle: 3,210 rpm; Displacement: 1,116 cc. Remote mounted Donaldson air filter.
Engine-mounted hydrostatic transmission powering four hydraulic wheel motors providing dual-diagonal full-time all-wheel drive.
Front: 23 x 10.50-12 turf tyres. Rear: 18 x 7.50-8 turf tyres.
Dry, replaceable primary and safety element.
Indicators: glow indicator, battery discharge, low engine oil pressure, blocked air cleaner, grass collector raised, parking brake on, work light on, headlight on, hazard light on. Gauges: hour meter/service indicator, engine temperature gauge, fuel tank level gauge with low level lamp.
Ignition switch, throttle lever, single foot-operated traction pedal, service brake with parking brake latch, switch for adjusting the height of cut.
Transport: 0 to 9.3 mph, continuously variable. Reverse: 0 to 6.2 mph
Smart Cool®. Electric with automatic or manual reversing for cleaning.
All welded formed-steel frame
Service brake: Traction pedal provides dynamic braking through hydrostatic transmission. Parking brake: Foot pedal actuates drum brakes on front wheels. Foot operated lock retains pedal in actuated position.
Rear axle with hydraulic steering. Adjustable tilt steering wheel with 2⅔ turns lock to lock.
55A with P terminal alternator. Battery: 55B24
Prevents engine from starting unless traction pedal is in neutral and deck is disengaged. If operator leaves seat with deck engaged, engine stops. If operator leaves the seat with the unit out of neutral, engine stops. Engine stops if parking brake is engaged and traction pedal not in neutral.
Low profile mechanical suspension, retractable seat belt
Work and road lights standard
9.5 litre capacity, fan-cooled oil cooler, high pressure cartridge filter
Belt-driven, Ogura electromagnetic clutch, with magnetic blade brake, powering drive shaft to gearbox on deck. Deck shuts off automatically when grass collector is full.
2-post standard foldable ROPS, meets ISO 21299
Certified to meet the CE Machinery Directive. Certified to meet Electromagnetic Compatibility Directive 2014/30/EU, Physical Agents Directive (Vibration) 2002/44/EC, Outdoor Noise Directive 2000/14/EC, and Battery Directive 2000/66/EC. Meets emissions regulations EU Stage IIIA. Reg. Compliance Mark (RCM) AS NZS CISPR 12:2009
Two year limited. Refer to Operator's Manual for further details.
20 to 110 mm, infinitely variable, hydraulically-adjusted, remotely controlled from operator's station
Formed and welded deck with front bull-nose bumper.
25 mm diameter spindles mounted in two greaseable bearings.
PTO driven gearbox with spiral bevel gears, "B" section belt drive to all spindles
Front: heat-treated steel; Counter-rotating: Two heat-treated blade segments per spindle, bolted to integral fan disc
80.7 m/s ±2% at 3,210 engine RPM
Two castor wheels in front, lift arm links in rear
Two, smooth, semi-pneumatic 9 x 3.50-4
Adjustable, spring-loaded idler
Two castor wheels in front, lift arm links in rear
Front nose roller and two rear side rollers
Moulded plastic with 1/4 turn fasteners and retention bolt
European standard per ISO EN 5395, CE approved.
Mow up to 12,000 m²/hr (3 acres/hr)
Automatic electric-powered grass distributor for level filling
Adjustable sensor detects when collector is full and disengages deck
Air vent system is engineered to retain and pack clippings with minimal dust or debris discharge
Separate hydraulic lift and hydraulic tip to dump. Rear door opens automatically when tipping
Dimensions & Weight With Cutting Deck
ROPS up 207 cm; ROPS down 166 cm
195 cm with 30 cm overhang
With Cutting Deck 980 kg, without Cutting Deck 810 kg
No features are currently available
No manuals are currently available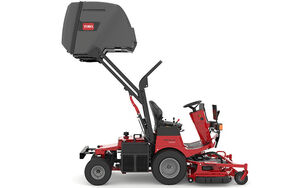 Toro ProLine H800