Stihl RMA 510 Lithium-Ion Lawn Mower (Skin Only)
Brand: STIHL
Product Code: 63720111402
Stihl's RMA 510 cordless lithium-ion battery lawn mower is really a step above the rest when it comes to battery powered products. The robust strong design, generous 51cm cut and the ability to either side discharge, catch or mulch makes this unit an extremely well rounded cordless lawn mower. And to top it off its super quiet! This product may be slightly more expensive then other lithium-ion products on the market although there is a substantial reason for that. The backup behind the product from knowledgable dealers, the ability to get a vast amount of spare parts and the quality of the machine and batteries that drive it. Come in and check out our demo today.
*Battery and chargers sold separately
For battery run times/charge times please download the chart below
Specifications
Features
Manuals
Videos
Specifications
States that the mower can do around 500 square meters with the AP 300 Battery on full charge. This is obviously shortened if the grass you are tackling is longer and thicker then average as it places more stress on the battery.
Features
Quiet Operation
The lithium-ion battery power technology means no fuel powered engine operates the product making it much quiet and more environmentally friendly
3 In One
The RMA 510 gives the owner the ability to cut their grass in three different ways making it applicable to all situations. It can catch the grass into the rear bag if needed, it can also throw the grass out the side if desired or finally it can also mulch the grass and return it to the soil to help fertilise it.
Push Button Start
The push button start on the RMA 510 makes it convenient and easy to use. Don't worry, there is also a key that must be in place before the mower can also go meaning children cannot start the mower even if they put the battery in so long as they don't have access to the key, safety is one of Stihl's no.1 priority's!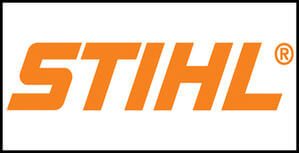 Stihl RMA Lawn Mower Range