Wolf Garten FW-M Window Squeegee
Brand: WOLF GARTEN
Product Code: 71ANA015650
The WOLF-Garten Window Squeegee features a 110° adjustable head which allows you to wash windows of any shape, no matter how awkward the window is.
The Window Squeegee tool comes with a short handle to wash reachable windows on the ground level.
Combine with a long handle or an extendable Vario Handle (available up to 4 meters long) to reach windows on your 2nd story from the ground.
It's now safe and easy to clean all the windows on your house, without needing a ladder.
Also perfect for cleaning contractors who need to clean high windows safely.
See the Window Squeegee in action below.
Use in combination with the Window Wiper and Extendable Vario Handle, to clean 2nd storey windows, safely from the ground.
No specifications are currently available
No features are currently available
No manuals are currently available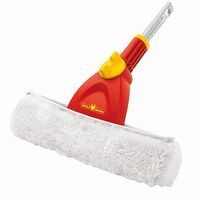 Window Wolf Garten