Toro GrandStand 36" Cut 15HP
Brand: TORO
Product Code: 74534
Availability:
Available on Request
ADD TO CART
This is one of my favorite units on the market. The Toro GrandStand mower is seriously underappreciated in the lawnmower industry within Australia. We are quick to want to plant our bums on a seat because it's less exhausting but if I was a contractor my main concern would be time. A Toro GrandStand mower allows you to quickly pull up at a job, jump on the back of the unit and take it off the trailer and cut an area before loading it back on. If there are any obstacles in the way you can quickly jump off the back of the unit, move it out of the way, and jump back on and continue mowing. This would save you loads of time and "time is money" when you're in the gardening game.
This unit gives you exceptional visibility of what's in front of you and the foldable foot platform instantly converts the GrandStand to a walk-behind unit. These units save you loads of space on the trailer also so you can fit more tools on the trailer as well. Powered by a 15HP V-Twin Kawasaki engine that is perfectly powered for this machine and deck.
This unit is fitted with a 36" Turbo Force fully welded cutting deck with bullnose bumper which is designed to last the distance, the 36" is a unique size that allows you to easily get through gates and access back yards with this machine! Made from 7-gauge steel deck which is industry-leading! The cast-iron spindle assemblies with maintenance-free bearings showcases the strength of the unit and this machine.
If your looking at improving the efficiency of your jobs and business a Toro GrandStand unit would be great for your company.
Specifications
15 HP* (11 kw) Kawasaki® FS541
18,500+ ft/min (5,640 m/min)
.25" (.6 cm) heat-treated steel
3" x 1.5" x 12 gauge (7.6 cm x 3.8 cm x 12 gauge)
11" x 4" - 5" (28 cm x 10.2 cm - 12.7 cm) flat-free semi-pneumatic
7-gauge 36" (91 cm) TURBO FORCE® with bull-nose bumper
Pumps (10cc/rev) & Wheel Motors (10 cir)
18" x 8.5" - 8" (46 cm x 22 cm - 20 cm)
1" - 5" in 1/4" (2.5 cm - 12.7 cm in 6 mm) increments
Foldable Operator Platform with Suspension
9 3/8" (23.8 cm) diameter cast iron
No features are currently available
No manuals are currently available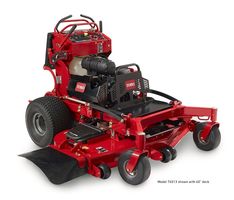 Toro GrandStand Mower