Greenworks OptimusZ 52" 18kWh Stand-On Zero-Turn
Brand: GREENWORKS
Product Code: 7401507AU (CZ52S18X)
The Greenworks OptimusZ 52" 18kWh Commercial Stand-On Mower is the most powerful and advanced stand-on zero-turn mower on the market. Stand-on units are the ultimate productivity machine and with less vibration, less noise and significantly less running costs they are a great addition to any team.
This ultra-high-performance mower operates with the equivalent power of a 51HP and 816cc displacement petrol engine. Powering the most advanced 19K Constant Smart cutting system by Greenworks and the patented PowrTraq Smart Drive System for excellent and unmatched traction. These machines boast the best center of gravity in the industry, operators can now safely and confidently tackle slopes of up to 15 degrees and cut grass at up to 19kph the fastest in its class.
The constant blade tip speed on 19,000FPM provides an exceptional cut and with no belts and no pulleys, you get that constantly through the cut. Normal, traditional petrol units can lag/ slow when they come under substantial load. The unit will also skillfully adjust its cut speed for various conditions to ensure your cutting quality is always enhanced to its best.
The Greenworks Optimus Z is the ultimate productivity machine. Engineered for all-day commercial use, the built-in 18kWh battery module with sale LFP cell technology allows landscapers to mow up to 6 hours of run time.* With the fast charger you can fully charge the OptimusZ 18kWh unit in only 2.5 hours! (fast charger is an optional extra, the normal charger supplied is 6 hours.)
Super quiet operation and 360-degree LED lighting allow for greater productivity as you can start earlier and cut during noise-sensitive times. This equals more business opportunities or simply a greater working period to get jobs done.
Real-time 4G/ GPS. That's right, real-time and it's the only unit in its class. This feature enables fleet management via the units software and the Greenworks Commercial app anytime, anywhere. Connectivity provides instant visibility to usage statistics and live insights into battery status and all system functions. In addition, the 4G module enables over-the-air (OTA) software updates to guarantee your machine always has the latest and greatest software without ever having to step foot in the dealership or repair shop! Monitor your blade time, how long you are cutting for, how long it takes to do certain properties and how long your blades are lasting.
The Greenworks OptimusZ Stand-On Mower range is backed by a 5-year or 2,000-hour warranty and brought to you by Greenworks Commercial - the leading manufacturer of commercial battery-powered landscaping equipment.
Specifications
Features
Videos
Specifications
Fully charge in 6 hours (240v 15A 3.3kW charger)
Fully Charge in 2 hours (240v 33A 8kW)
7-8 hours depending on the modes and cutting conditions. 6 hours comfortably on full cutting speed and low drive speed.
5 year / 2,000 hour commercial warranty
Features
The Most Powerful Mower in its Class
High performing and constant blade tip speed. Thats what you get with the Greenworks ultra-high-performance mower. Operates with the equivalent power of a 65HP / 1040cc petrol engine.
Intelligent Cutting
Equipped with the processing power to manage, read, and respond to user inputs and constantly changing conditions to provide unmatched, instant user control.
Best Commercial User Experience
Enjoy increased productivity with no fumes, no toxic emissions, no petrol, no oil, no headaches, no engine maintenance, no belts, no filters, no fluids,, low vibration and minimal noise.
4G / GPS Connectivity
Connect your units from anywhere in real -time data. This includes the units location, performance, metrics and battery status. 4g / GPS connectivity also enables over-the-air (OTA) software updates so you never have to go into a dealership for any software upgrades!
Bolt-On Replaceable Deck Baffles and Rollers
Provides the user with an excellent serviceability experience by allowing easy replacement processes for commonly worn out parts.
Control Pegs
Additional foot pegs for better weight adjustment when traversing higher-degree slope applications.
Robust Fabricated Steel Decks
made-to-last 7 gauge steel deck is constructed with high precision robotically seam-welded chassis and machine-accurate laser cutting.
2" Receiver and Rear Tow Point
Allows users access to an array of 2"receiver compatible attachments a tow point to conveniently pull the mower from unfavourable positions if you manage to get it stuck!
17 Deck Height Positions
Stay in control of your cut with 17 positions ranging from 1"- 5".
State-Of-The-Art 4.3"LCD Touchscreen
Intuitive interface, glove-safe touch, and ultra-bright screen provide excellent visibility and an unmatched user experience. This LCD touchscreen is backed by an IPX56 protection rating. Control everything and see everything from your command screen.
Agility and Stability
Optimised to achieve the lowest possible center of gravity, allowing for maximum stability when climbing or driving at higher speeds.
Fold-Up standing Plate
Easily and quickly fold the standing plate up so you can operate the unit whilst walking behind. This is beneficial in steeper working conditions and provides greater control when needed.
Reinforced Casters
Equipped with a dual-layered, half-inch metal plating for maximum caster durability and strength.
All-Day Ride Comfort
Users of all shapes and sizes can enjoy all-day comfort on this premium, commercial-grade leg pad with suspension standing plate.
Rubber Discharge Flap with Hook Loop
Provides exceptional knock-down performance to keep debris from flying upwards and comes with a hook loop for convenient flap raising when transporting or storing the mower.
Load Plate
The utility plate on the front of the stand on is an industry first load plate. It can hold 113kg!
USB-A and USB-C Charging and Water Resistant Storage Pocket
Safely store and charge mobile devices while operating the machine.
Electronic Take Off (ETO)
Provides power-on-the-go for users to operate powered attachments coming in Q2 of 2023.
Laser Cut Decals
Metal laser cut logos mean your visuals never loose quality.
Superior Ergonomics and Standing Angle
Improved ride quality enables users to ride in line between the wheels, providing a best-in-class user experience and reduces fatigue.
Cup Holders
2 cup holders for on the job.
Battery First
Intelligently designed to maximise the space between the from and alongside two industry-first, low-profile hub drive motors tucked away into the rear wheels to achieve the lowest centre of gravity in the industry. This allows users to safely and confidently tackle higher sloped applications.
Easy Serviceability and Maintenance
Less maintenance compared to petrol, 2000 hours maintenance-free drive system. Bolt on, replaceable deck baffles and rollers. Rear controller location allows easy access for excellent serviceability. The 2" receiver port for the front allows for the unit to be easily jacked up to replace blades. Only maintenance required is greasing front caster wheels.
No manuals are currently available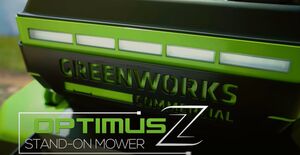 OptimusZ Stand on