Toro 60V Battery Hedge Trimmer (Skin Only)
Brand: TORO
Product Code: 51855T
The cordless hedge trimmer 60V FlexForce tool is the perfect addition to your gardening maintenance fleet. This tool will allow you to easily maintain your garden and keep it in perfect order.
The huge 61cm bar allows you to tackle almost anything you can throw at it and a blade cut capacity of 1.9cm means that it is most definitely not a toy like a lot of other cordless hedge trimmers on the market. The crisscrossing scissor system blades produce less vibration and a better cut leaving you with a tool that you will love to use.
The rotating handle at the back that can be activated with the simple push of a button gives you a way to comfortably do the vertical cutting, reducing fatigue as this tool is much easier to control! This tool also gives you up to 75 minutes run time with the 2.5Ah battery which is ample trigger time to get most jobs done in the garden. With the Toro rapid charger even if you need longer, you won't be out of action long. once the battery dies!
Backed by the huge Toro 3 Year FlexForce unit warranty have the peace of mind that you're buying a product backed by the supplied.
Specifications
Features
Videos
Specifications
Run time can vary based on conditions and load.
Features
Rotating HandleThe quick push of a button rotates the handle of the hedge trimmer so that it easily operates at 90 degrees. This makes for quick, easy and comfortable cutting.
Toro Blade DesignThe exclusive Toro double edges crisscrossing blade design gives you an effective and efficient cut every time! It can handle up to 19mm thick and leave you with a great looking garden.
Extra-Long BladeThe generous blade length means that you can tackle the small hedges and the BIG hedges!
No manuals are currently available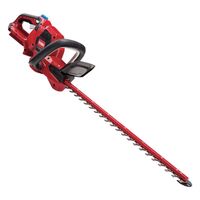 Toro 60V Hedge Trimmer