Toro 22" All-Wheel Drive Personal Pace
Brand: TORO
Product Code: 20353
ADD TO CART
If you have a nice large area to mow with the undulating ground then this Toro AWD lawn mower is perfect for you. Featuring an all-wheel-drive self-propelled system you can easily cut your grass without the hassle of pushing it uphill. It provides traction to all four wheels helping you glide over the property as if it was as flat as a football field.
The personal pace drive means that there isn't just one, two or three speeds for your drive. The harder you force down the handle the faster the mower goes meaning yours in complete control. Working much like you accelerator in the car.
The mower will cut, catch or mulch and all three are at your disposal at ease. You can mulch if you would to fertilise the lawn and remove the worry of grass clippings whilst making it look like you caught it. Or you can catch if prefer to dispose off the clippings for a supreme finish. Contact us today if you have any further questions!
Specifications
Features
Manuals
Videos
Specifications
Personal Pace All-Wheel Drive w/Traction Assist
Features
22" Recycler Cutting Deck
The large cut means you can get the job done faster, and the ability to side discharge, catch or mulch means you have all options available at your disposal.
Dual Variable Transmission
The front and rear wheels engage independently, distributing the right amount of traction when it is needed so that you can use this mower on uneven tough hills and slopes easily.
Bag or Mulch on Demand
Theres nothing better than being able to switch from catching to mulching in certain areas of your property as different areas can require different cuts. Well this is made exceptionally easy with Toros introduction of the bag-on-demand feature. One push of the button and you can go from one mode, to the next.
Personal Pace Automatic Drive with Traction Assist
This technology is my favourite self propelled system on the market, as you use it the speed adjusts to your walking speed so that you can comfortably use the self propelled system around your property.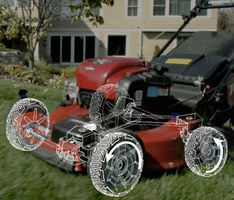 Toro AWD Self-Propelled Mower