Toro Personal Pace Self-Propelled Super Recycler
Brand: TORO
Product Code: 21681
ONE DEMO MODEL AVAILABLE IN-STORE FOR $829 - USED FOR 20 MINUTES ON STURT ST. COMES WITH NEW WARRANTY
The Toro super recycler is engineered in a way which cuts the grass clippings multiple times to they are super fine and can be recycled through the soil for lush green grass. The cast aluminium deck ensures that you receive a machine that is both strong and lightweight giving the operator the best of both worlds.
Powered by a reliable Toro OHV engine with a innovative governor design to deliver more useable for power faster when under load. Equipped with special features such as the auto-choke, cast-iron cylinder sleeve, dual oversized crankshaft bearings and triple piston rings.
The personal pace system allows you to mow your grass at your desired speed. Meaning the harder you push the self propelled handle the fast it will go. Toro also back their product in for the long haul offering a 5 year warranty on this product. That is 5 years on the engine and a 5 year guarantee to start.
AVAILABLE FOR $35/WK ON 0% FINANCE FOR 6 MONTHS APPLY BELOW (ONLY ON RRP)
Specifications
159cc OHV with Auto Choke
Personal Pace (auto drive with truncation assist, rear wheel drive)
Single point adjustment 2.5 - 10.5cm
5 yrs on the engine and 5yrs guaranteed to start
No features are currently available
No manuals are currently available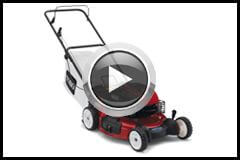 Toro Super Recycler