Toro 22" Personal Pace Recycler 60V Max Battery Mower
Brand: TORO
Product Code: 21863
NOW IN STOCK & ON SALE
WILL SHIP AUS-WIDE WITH 24HR DISPATCH (MON-THUR) (Can ship to city depot for collection also)
60V 6.0Ah Battery included
Toro is entering the lithium-ion market in Australia and boy-o-boy are we excited about it. The legendary Toro Recycler mower has been one of the most popular mowers on the market for years and the addition of this lithium-ion powered unit gives you a more eco-friendly way of getting that same Toro finish you have come to know and love.
The unit is powered by the Toro 60V Max Lithium-Ion battery that is compatible across a range of tools made by Toro. The innovative and creative minds at Toro have created an easy to start, easy to maintain, and easy to use tool! The mower features a large 22" bar blade that provides an efficient and effective cut whether you want to mulch, catch or side discharge, this mower can do it all. The Toro recycler is particularly great at mulching the grass as it features the signature Toro recycler blade that cuts the grass multiple times into smaller pieces which can be easily spread amongst the remaining grass to leave that ideal finish.
The features are endless. Find out what all the fuss is about and have the goods safely delivered to your door by Hendersons.
For more features, specifications and information see the tabs below. Buy with Henderson's and have the tools delivered directly to your door.
Specifications
Features
Videos
Specifications
L324 Battery Included 60V 6.0 Ah; 324 Wh Charger Included
1300m2 with 6.0Ah battery
Toro Personal Pace (self-propelled)
Front: 20.3 cm, Rear: 28 cm
Measured Sound Power: 90 dBA; Guaranteed Sound Power: 91 dBA; Sound Pressure: 79 dBA; K-factor: 1
Left & Right: 0.3 m/s² rms, Uncertainty K: 0.1 m/s²
SmartStow, 1 Piece, Adjustable Height
Features
Personal Pace
The Toro personal pace system is one of the most recognised self-propelled drives in the market. The unit adjusts the speed automatically to your walking pace and this is done via the unit speeding up or slowing down according to the pressure you apply on the handle when walking.
Steel Deck
Durability and reliability. No plastic base here, all steel! The base is both strong and lightweight giving you the best of both worlds.
Toro Recycler Technology
Get the best looking lawn in the street but utilising the Toro mulching blade that produces extra fine grass clippings that can be returned to the soil. Not only will you not have grass clipping to throw away you will have a greener lawn and a fresher look! (blade and design Toro patented)
Tight for Room?
Everyone knows the struggles of space and space in the garage or shed is so valuable. The Toro SmartStow allows your mower to be convieniantly stored up against the wall and takes up 70% less space in that area.
Reliable Starting
Push button start means you will never have to worry about a pull cord again. Your unit will start first time every time! The FlexForce Toro battery technology has intelligent software that allows the unit to automatically maximise run time and power.
Brushless Motor Technology
The unit creates less friction, has lower maintenance and less wear with a high performance brushless DC motor.
11" Rear Wheels
Aussie backyards aren't always the smoothest which is why the Toro 11" rear wheels are perfect for out backyards. They make them easier to push and control over all terrains!
Full Range of Power
The range is big and there is a compatible tool for every job. Brushcutter, chainsaw, line trimmer, hedge trimmer and blower all take the same battery!
No manuals are currently available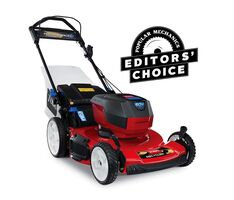 60V Recycler Mower