Greenworks 60V Self-Propelled 21" Lawn Mower (Skin)
Brand: GREENWORKS
Product Code: 2510107AU
SKIN ONLY.
The centerpiece of the newly arriving 60V Greenworks battery range is the 21" self-propelled lawn mower which is lightweight easy to use and provides a superior cut.
This 3-in-1 machine is a 60V brushless self-propelled mower that will allow you to keep your garden super clean, giving you the ability to side throw, catch or mulch the grass. The dual battery port with automatic switch over means that once one battery is drained it automatically draws from the second giving you a longer hassle-free mow time.
The variable speed self-propelled is elite in design, making mowing the lawn much more enjoyable and less work! Unlike a petrol mower, this self-propelled unit is still super lightweight and easy to handle also! The brushless motor is really efficient and features a turbo function that gives you a greater cut when the grass gets tough. The Greenworks SmartSpeed technology is also featured in this unit! This technology allows the machine to automatically increase the blade tip speed when needed to meet the cutting conditions before it.
The unit can cover up to 680 square meters with a 4.0Ah battery which is heaps, in Australia, you will have the option of either a 6.0Ah kit or a 8.0Ah kit! Not to mention, this unit conveniently and easily folds up neatly in seconds to be stored away taking up less room in your garage or shed!
Backed by a 4 year warranty on the unit
No features are currently available
No manuals are currently available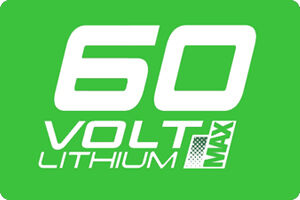 60v range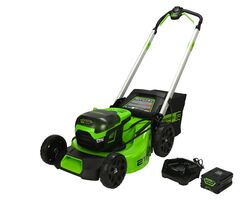 60v Mower